Cheteshwar Pujara has made a strong statement on his return to the Indian Test side during the second innings of the Edgbaston Test vs England as the senior batsman helped extend India's lead while the host bowlers once again made life difficult for the visiting top-order.
India had taken a healthy first-innings lead of 132 runs, but, in reply, lost three wickets – Shubman Gill, Hanuma Vihari and Virat Kohli – for 75 runs. Pujara as usual was stoic, scoring 66 runs off 168 balls in a typical Pujara fashion in what perhaps could just be his last Test innings for India!
Cheteshwar Pujara was dropped from the Test side
Pujara endured a tough time earlier in the year. After another disappointing series, versus South Africa, Pujara, along with Ajinkya Rahane, was dropped from the Test series against Sri Lanka. Further, while Rahane was picked up by KKR in the IPL 2022 auction, Pujara went unsold.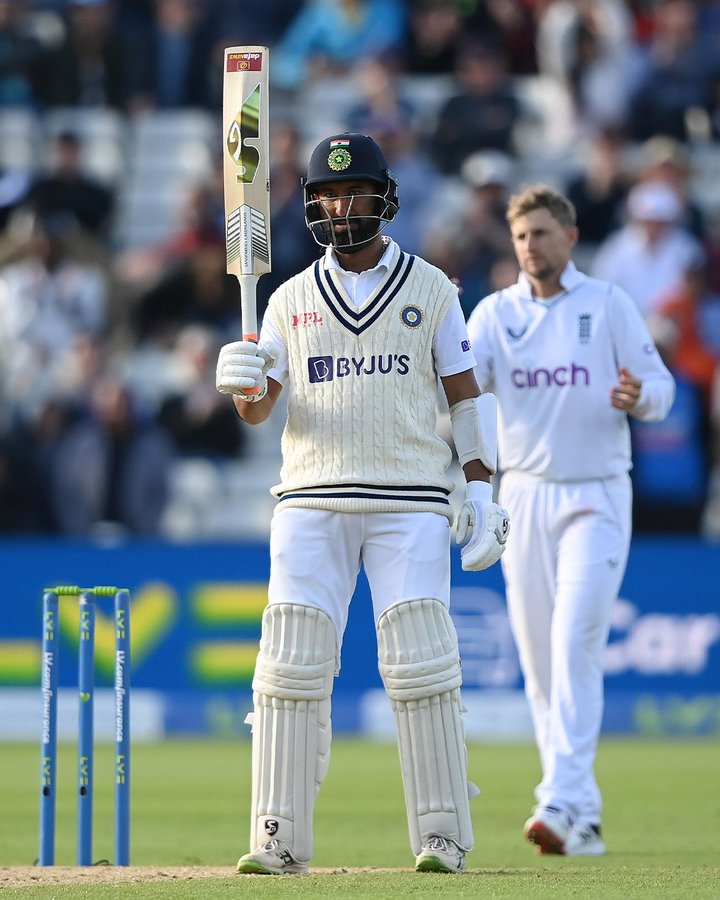 Image Source – Twitter/@SussexCCC
Going unsold in the auction turned out to be a blessing in disguise for Pujara, who then rocked up to the County Championship in England and plundered over 700 runs, including two double-hundreds, an unbeaten 170 and another century, forcing his way back in the squad, and unavailability of Rohit Sharma and KL Rahul got him an opening position in the Test match.
He had looked solid in the first innings as well, but managed only 13 runs off 46 balls. But the right-hander made his opportunity count in the second innings. He was resolute, showing great judgement of length while leaving deliveries, even those which came back in sharply.
A positive aspect of Pujara's knock was his cut shots which he played regularly, on lengths and lines that he'd have left alone earlier. He cut in confidence, steered behind squad on the off-side with delicacy, and was adept and composed at flicking balls on his pads.
Unfortunately, he got out to a strong cut shot, hitting straight to the point fielder – a couple of yards either side of the fielder and he'd have picked up another four. Nonetheless, it was a typical gritty, patient, resilient knock from Pujara. But will it find him a place in the eleven the next time India plays a Test – we will have to wait for a while for that.
Anyway, netizens were effusive in praise for Pujara.
Here are some of the best tweets hailing Pujara's innings:
A patient half-century from Cheteshwar Pujara #WTC23 | #ENGvIND | https://t.co/wMZK8kesdD pic.twitter.com/me80dNan6h

— ICC (@ICC) July 3, 2022
Pujara in the second innings of this Test series against England:

12*(13)
45(206)
91(189)
61(127)
66(168) pic.twitter.com/KsHPPUoDEj

— Johns. (@CricCrazyJohns) July 4, 2022
Well played, Pujara – end of a very good knock – 66 valuable runs in the second innings and put India on the top.

— Johns. (@CricCrazyJohns) July 4, 2022
Dropped from the Test setup, played in Ranji Trophy, went to county, scored tons of runs, both the regular openers of Indian team ruled out, asked him to open and he did a great job in the second innings so far. Well done, Pujara. pic.twitter.com/gyEs8FlRag

— Johns. (@CricCrazyJohns) July 3, 2022
Cheteshwar Pujara is the first Indian opener in 36 years to score a Test fifty at Edgbaston.

— Mufaddal Vohra (@mufaddal_vohra) July 3, 2022
220+ runs ahead. Pujara s faced 106 balls at the moment. As much as the talk is of exciting batters in test cricket atm,the value of an innings like this shouldn't be underrated! #INDvENG

— Abhinav Mukund (@mukundabhinav) July 3, 2022
Pujara has redefined the meaning of patience and resilience. Another fine knock by Pujara came to an end. 🫰 #INDvENG

— Unnati Madan (@unnati_madan) July 4, 2022
A hard fought fity from Pujara – he was dropped from the Test setup, but worked extremely hard in the domestics to earn this spot back.pic.twitter.com/hLbxZ4DFHn

— Mufaddal Vohra (@mufaddal_vohra) July 3, 2022
Pujara's quiet contributions this series:

2nd Test, Inns2: 45 (206),
18-1 [-9] (9.2) to 155-4 (72.4)

3rd Test, Inns2: 91 (189),
34-1 [-320] (18.6) to 215-3 (83.3)

4th Test, Inns2: 61 (127),
83-1 [-16] (33.6) to 237-3 (80.6)

5th Test, Inns2: 50* (139)
0-0 (0.0) to *

— Himanish Ganjoo (@hganjoo153) July 3, 2022
Can't criticize Pujara for that dismissal. The ball was there to be hit and he was batting with intent this morning. Such dismissals can happen.

Would have loved for him to get a hundred here. Been a long time since he did it.

— Gurkirat Singh Gill (@gurkiratsgill) July 4, 2022
Most times facing 100+ balls in SENA Tests

38 times – Rahul Dravid
32 times – Sachin Tendulkar
25 times – Virat Kohli
24 times – Cheteshwar Pujara*
23 times – Sunil Gavaskar#ENGvIND #Pujara

— The Cricket Panda (@TheCricketPanda) July 3, 2022
Pujara is still doing alright in a bowling era. Many constantly put him in Rahane 's bracket including selectors.

— ∆ (@CaughtAtGully) July 3, 2022
Pant and Pujara together pic.twitter.com/o2DbP5MZHd

— Savage (@arcomedys) July 4, 2022
Very very good innings from Pujara,he has had his share of luck during it but if anybody deserves some luck then it Cheteshwar Pujara.

Keep going tomorrow Puji!#ENGvsIND

— Akash Kumar Jha (@Akashkumarjha14) July 3, 2022
Played, Pujara!

— Prajakta (@18prajakta) July 3, 2022
Batted Pujara. A completely different pace from some of the innings we've seen this summer, but nevertheless an important knock to prevent any wobble from India & keep them well ahead in this test.

— Adam Sutherland (@ADSutherland_) July 3, 2022
Oh no not Pujara what's worse is that he has got out playing an attacking shot, otherwise needed the best ball of the match to be dismissed.
Nonetheless, Great innings ChePu ️…(might also be the last time then in the whites for India)#INDvENG

— Jatin Khandelwal (@jr_khandelwal) July 4, 2022
Also Read: AB de Villiers' Ultimate Praise For The Pant-Jadeja Partnership