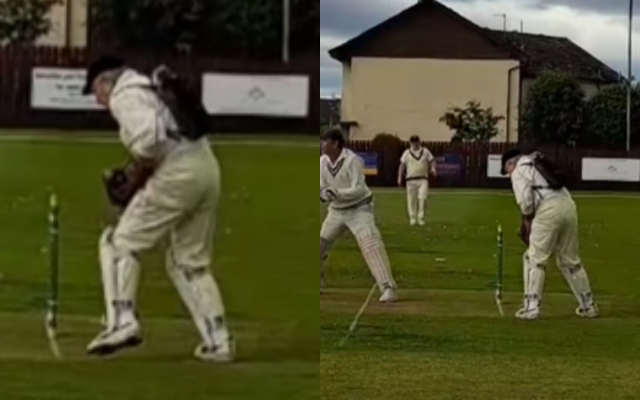 Former Scotland international Alex Steele was diagnosed with idiopathic pulmonary fibrosis, a terminal respiratory illness in 2020. Doctors informed his family that Steele may not survive for long but the 83-year-old didn't lose his spirits. Three years later, the former wicket-keeper batter keeps wicket for his club with an oxygen cylinder strapped to his back. This incident has stunned the cricketing world as such a phenomenon has never been witnessed in cricket history.
Notably, Steele is a former first-class cricketer, who made his Scotland debut in the year 1967. He went on to represent the national team in eight matches before announcing to step away from the game for some time. However, the break lasted for eight years, as he returned back in 1977. He played against Ireland on his comeback and went on to play five more first-class matches in the next three years.
In the limited time that he has played, Steele scored 621 runs in 14 FC matches at an average of 24.84. He also has two half-centuries to his name in international cricket as both came against the neighbours, Ireland. His highest score in international cricket is 97 runs. Meanwhile, behind the stumps, he has 11 catches to his name and also has two stumpings.
"It was quite gentle cricket, but absolutely wonderful. I'm absolutely thrilled to say that I stood up to the stumps for the full 30 overs," Steele told The Times after his video went viral on various social media platforms.
One of the most important things is your own attitude to the illness: Steele
Meanwhile, despite having several health issues, Steele showed extreme courage to return back to cricket. After the match, Steele even stated that he wants to keep playing cricket and is not ready to stop. Speaking about the same, the former cricketer mentioned that he knows about players who give up pretty easily after an injury but reminded that he isn't one of them.
"One of the most important things is your own attitude to the illness. I know of people who when something ill happens to them, give up the ghost and feel sorry for themselves. I haven't felt that myself," Steele added.