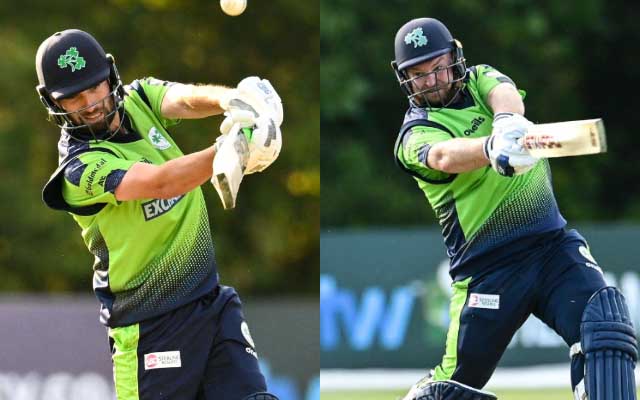 HARARE, Zimbabwe – Ireland Men's captain Andrew Balbirnie has this evening announced that he will step down from the captaincy of the One-Day International and T20 International squads effective immediately. Paul Stirling will step into the role on an interim basis.
Balbirnie, 32, has led his country 89 times across formats (four Tests, 33 ODIs, 52 T20Is) since taking over the reins in late 2019.
He informed his teammates shortly after today's final match of the ICC Cricket World Cup Qualifier for Ireland – signing off his white-ball captaincy tenure with a win.
Speaking about his decision, Balbirnie said:
"After much thought and consideration, I have made the decision to step down as ODI and T20I captain. It has been one of my great honours to lead this team over the last few years and I am hugely grateful for all the support I received on and off the pitch from the many players, coaches, Cricket Ireland and supporters of the Ireland team.
"I feel this is the right time for me, but more importantly the team. I will continue to do my best for this team and work hard to contribute towards what I hope will be a successful period over the next number of years. Thank you."
Heinrich Malan, Head Coach of Ireland Men, said:
"While we completely respect Andrew's decision to step down, for me, it is a poignant day. Andrew has been an exceptionally dedicated captain during his tenure, and I have greatly enjoyed working closely with him as captain. I know this was not a decision he took lightly, but one that he considered was best for the team. As a senior member of the squad, I very much look forward to continuing to work with him into the future.
"In terms of the captaincy going forward, Paul Stirling has agreed to take on the role on an interim basis until the end of the ODI series against England in September. Stirlo, as existing vice-captain of the squad, is someone I have also worked closely with and look forward to planning together through the next few months."
Richard Holdsworth, High Performance Director at Cricket Ireland, said:
"Firstly, I'd like to acknowledge Andrew's work as Ireland Men's captain – he has been an exceptionally dedicated leader during his time in charge. He managed through the COVID pandemic, a transition of coach from Graham Ford to Heinrich Malan – and not forgetting the brief stint with interim coach David Ripley that ended with a memorable series victory over the West Indies. When I reflect on the tenacity of the squad under Andrew, I think back to the T20 World Cup Qualification campaign in 2022, then on to the tournament proper with wins over Scotland, West Indies and, of course, England.
"But it was the Covid years when he really displayed his ability to galvanise his players and keep them focussed on the job at hand, and for that, we are thankful to him for his unstinting commitment.
"In terms of recent events, we all feel the disappointment of the Qualifier campaign in Zimbabwe, and there is a collective responsibility that we all bear – players, coaches and administrators – which will be looked at as part of the post-event review that will be undertaken. Given the proximity of the T20 World Cup European Qualifier, we obviously respect the need to re-focus the players on the new campaign, so we will complete the review after the upcoming tournament with further updates to be made in due course.
"I would also like to thank Paul for agreeing to step into the role until the end of September. Paul's experience, both as a senior player and occasional captain, is invaluable and we wish him luck in months ahead.
"As for the longer-term, a process for the appointment of a permanent captain will be undertaken in late 2023 ahead of our next international matches."
Stirling, 32, has led his country 13 times across formats (four ODIs, nine T20Is) in a caretaker capacity (he was also named as captain in a 14th match that ended as a 'No result'). He is rapidly closing in on Kevin O'Brien's record as the most capped Irish cricketer and has been a virtual mainstay in the Ireland Men's team since his debut in 2008.
The Ireland Men's T20 World Cup European Qualifier squad will be announced imminently.