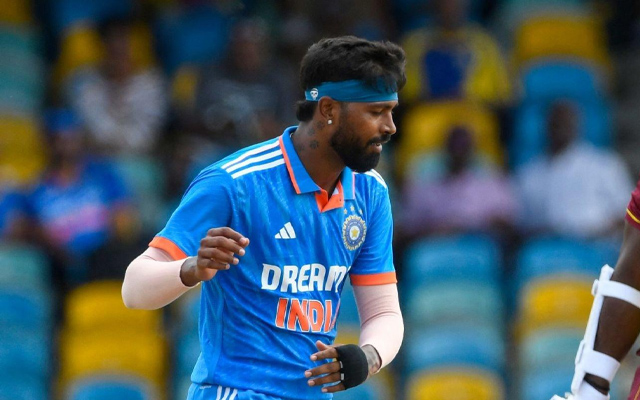 Indian all-rounder Hardik Pandya delved into the significance of the much-anticipated clash between India and Pakistan at the Asia Cup 2023. Reflecting on the intense emotions evoked by fans, Pandya emphasized the team's focus on playing exceptional cricket against a formidable opponent.
He noted the challenge of maintaining composure amid the fervour surrounding such matches, underlining the need to make calculated decisions rather than succumbing to emotional impulses. The upcoming mega event, according to Pandya, presents an opportunity to showcase character and determination, a prospect that fills him with excitement.
"A lot of emotions are attached by fans. For us, it is about playing a good team, playing a match against a very good side who has done very well in the recent past," Pandya told Star Sports as he spoke on the magnitude of the India versus Pakistan game at the Asia Cup 2023.
"Couple of finals they've played and the tension between us is always there. So, for me, we try to keep the outside noise outside, and we focus on how we can play good cricket. At the end of the day, we are cricketers.
"We can't get too emotional about it because then certain decisions can be reckless, which I don't believe in. But, at the same point of time, it's a mega event. It's an event which I've seen how it checks your character, checks your personality, and at the same point in time, you can see in how deep waters you can swim. So for me, all these factors excite me a lot and yeah, I can't wait," he added.
Additionally, Pandya shed light on his approach to One Day International cricket, stressing the need for adaptability in the longer format. He discussed the nuances of preparing for high-stakes encounters, where a strategic mind-set complements the situational awareness that plays a pivotal role. He also spoke about how his mentality changes for ODI cricket and how he prepares himself for these high-profile matches.
"It's just that you have a little more time than what you think. I believe in T20 as well, you have more time than you think, but at the same time, ODI is a much longer game. It is a game where you have to adapt, you have to get used to the conditions because the game is going on for 50 overs, and to play, to win against a good side, you have to play a good 100 overs of cricket. That's when you win the game.
"So as a cricketer, for me, my mindset only changes for the fact that I start preparing according to how the ODI format demands, and if the preparation is proper, then I just go out there and read the situation. Because half of the time the situation dictates itself, so you don't have to use rocket science, you've to just watch the game, see, try to understand what's happening and maybe take a smarter call," said Pandya.
Also read: Most runs in Asia Cup 2023