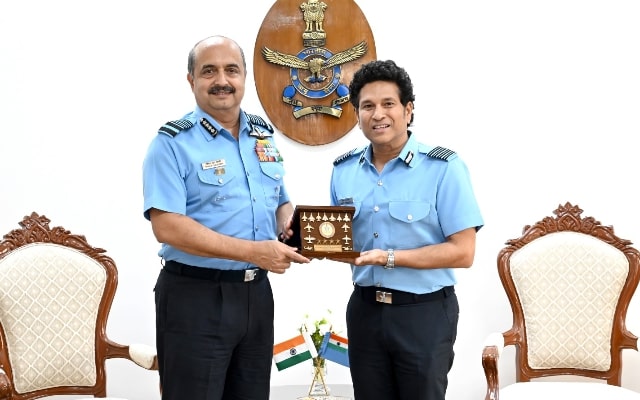 The greatness of Sachin Tendulkar extends far beyond the boundaries of the cricket field. Even a decade after his retirement in 2013, no batter has even come close to touching his monumental records of 18,426 runs in ODIs and 15,921 runs in Tests. His international centuries remain unparalleled, solidifying his position among the all-time greats. Yet, there is more to Tendulkar than just his cricketing prowess.
Talking about the lesser-known facets of his life, it is remarkable to note that Tendulkar holds an honorary role as a group captain with the Indian Air Force. This intriguing blend of a cricketing legend and an Air Force officer converged recently when Tendulkar visited Chief of Air Staff Air Chief Marshal VR Chaudhari in New Delhi. The viral images of Tendulkar donning the Indian Air Force attire captured the attention of the fans.
Blues Forever – with the Indian Cricket Team and with the Indian Air Force.

Honourary Group Captain Sachin Tendulkar recently called on the CAS Air Chief Marshal VR Chaudhari in New Delhi.@sachin_rt pic.twitter.com/QWPeqsTGWa

— Indian Air Force (@IAF_MCC) August 24, 2023
Going back to his cricketing journey that commenced in 1989, Tendulkar's impact is definitely unmatched. Even former Pakistani pace bowler Shoaib Akhtar, who himself posed a challenge to many greats, hailed Tendulkar's "extraordinary" talent. Akhtar marvelled at Tendulkar's ability to excel against a diverse range of bowlers spanning various eras.
It is captivating to consider that Tendulkar faced bowling greats like Glenn McGrath, Brett Lee, and Akhtar himself. Tackling their distinct styles and strategies, Tendulkar's resilience shone through, allowing him to etch remarkable innings into cricket's history.
"The reason I call Sachin the greatest of all time is because he had to first face Warne, McGrath, Wasim Akram, West Indies and South Africa pace batteries. Then after 10 years, he had to face the fastest bowlers like Brett Lee, me, Dale Steyn and the other guys. I just thought this guy is crazy, this is not normal, nothing less than extraordinary," Akhtar told RevSportz.
In an era where cricket often takes centre stage, Tendulkar's multi-dimensional identity reminds us that greatness transcends the boundary of a singular field. His legacy lives on as a testament to human potential and the indomitable spirit that propels individuals to achieve the extraordinary.