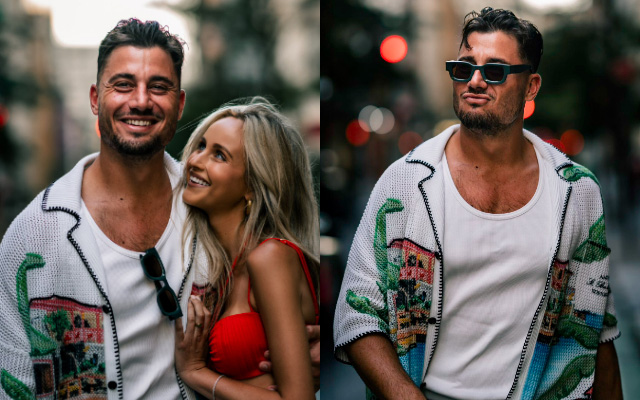 Star Australia all-rounder Marcus Stoinis and his girlfriend Sarah Czarnuch were recently spotted on holiday in New York, United States of America (USA). David Guerrero, a street photographer in New York approached the couple and asked them to pose for a few photos.
Notably, the photographer did not recognize the cricketer, as the game is gaining popularity in the United States, and inquired about the couple's origins. The photographer asked them to pose for a photoshoot after showing his previous works on social media. They consented, and Guerrero began photographing them, first of the couple, and then of both of them individually.
On August 4, the photographer took to his official Twitter account and shared a video of him taking photos of the cricketer and his partner.
"Street photography w/ these beautiful Australian Couple," he captioned the post.
The post went viral with fans flooding the comment section to tell him that Stoinis is a famous Australian cricketer. However, after five days the photographer shared a few more pictures and tagged Stoinis with a caption, "This is why I enjoy what I do, you never know who you'll come across."
Meanwhile, some fans hilariously mocked Adam Zampa, claiming Stoinis had been cheating on him. For the unversed, the relationship between Stoinis and Zampa is one of the most talked-about bromances in the world of cricket. They have both frequently been captured on camera, and have posted pictures together on social media.
Marcus Stoinis was part of the San Francisco Unicorns in the inaugural Major League Cricket (MLC). The Aaron Finch-led side finished fifth on the standings with two wins from five games. The 33-year-old struggled in the MLC 2023, scoring just 74 runs and taking two wickets in five games.
See the post:
Street photography w/ these beautiful Australian Couple 🙌
.
.
.
.#streetphotography #portrait #sonyalpha pic.twitter.com/6boFp1i7yB

— David Guerrero (@dgphotoholic) August 4, 2023
This is why I enjoy what I do, you never know who you'll come across @MStoinis pic.twitter.com/f3yKiY9ssh

— David Guerrero (@dgphotoholic) August 9, 2023
The 'beautiful Australian couple' just happens to be Marcus Stoinis and his gorg girlfriend Sarah. Very cool! https://t.co/MGDX9tLLeL

— Chloe-Amanda Bailey (@ChloeAmandaB) August 9, 2023
David really you don't know is he ?

— SAVANT A (@AmolSavant91) August 9, 2023
Your followers going to skyrocket today.

— The Contest Guy (@BoliMocr) August 9, 2023
Dude these are not ordinary people , he is Marcus Stonis an established Australian cricketer. Very well known across the cricketing fans across the world. What a joke.

— Sadaf Sayeed 🇮🇳 (@Sadafsayeed) August 9, 2023
Stoinis caught cheating on Zampa 😯

— Santanu (@Shhaananigans) August 9, 2023
Bro he is a legend Aussie, Marcus Stoinis

Thanks for this is 🔥 pic.twitter.com/SGPI98z4NW

— Bharat Cricket 🜃 (@BhartArmy) August 9, 2023
Me after seeing Marcus Stoinis* pic.twitter.com/SZiC82VHiK

— Babul Yadav (@BABULKU74795114) August 9, 2023
he is good actor toopic.twitter.com/uuVR5e8ZYH

— ગુજરાતીમાં (@GujaratiTalk) August 9, 2023
Zampa be like… 😂😂 pic.twitter.com/Yw89l3wXH9

— Aditya (@aditya10on9) August 9, 2023
He is a good dancer as well.pic.twitter.com/w7oljtXbCs

— Akif (@KM_Akif) August 9, 2023
Dude that Marcus 'frikkin' Stoinis! pic.twitter.com/TrxpL4MCDu

— H G Tannhaus (@tannhaushg) August 9, 2023