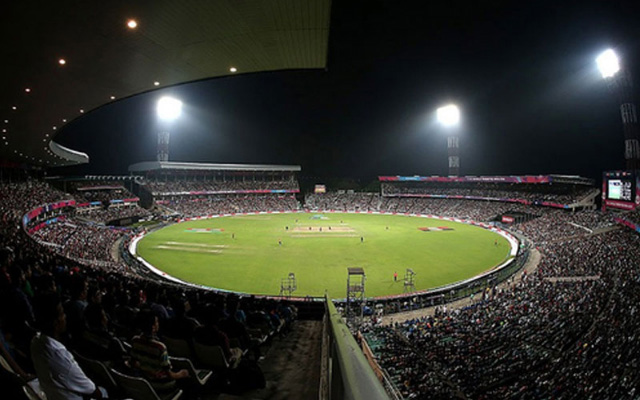 The schedule for the ODI World Cup 2023 was released by the Board of Control for Cricket in India (BCCI) and the International Cricket Council (ICC) last month. The historic Eden Gardens stadium in Kolkata will be hosting five matches during the mega event including one semi-final. Recently, Cricket Association of Bengal (CAB) chief Snehasish Ganguly announced the prices of the tickets for World Cup matches.
The prices range from INR 650 – INR 3000 for all the matches scheduled at the venue.
CAB President Snehasish Ganguly today announced the #ODIWorldCup ticket rates:

– For Bangladesh v Qualifier 1 match ticket rates are

Rs 650 for all Upper Tiers
Rs 1000 for D H blocks
Rs 1500 for B C K L blocks

– For Eng vs Pakistan and Bangladesh Pakistan matches

Rs 800…

— Subhayan Chakraborty (@CricSubhayan) July 10, 2023
Notably the historic ground will be hosting five matches which are Netherlands vs Bangladesh, Pakistan vs Bangladesh, India vs South Africa, England vs Pakistan and the second semi-final.
The tickets for the first game (Netherlands vs Bangladesh) start from INR 650 while for the fourth game (England vs Pakistan), and second game (Pakistan vs Bangladesh) start from INR 800 and go up to INR 2200.
On the other hand, the tickets for India vs South Africa game and the second semi-final range from INR 900- 3000. Notably during the 2011 ODI World Cup held in India, Kolkata failed to host the India vs England clash due to incomplete construction work at the venue.
Eden Gardens may get to host the high-octane India vs Pakistan game in upcoming ODI World Cup
However, in the upcoming edition, the historic stadium will get to host several high-profile matches which could also include an India vs Pakistan semi-final. As per the schedule, India will play their semi-final at the Wankhede Stadium, in Mumbai. However, if their semi-final fixture is against Pakistan then they will play it at the Eden Gardens, in Kolkata, on November 16.
The two teams have previously met in the quarter-final of the 1996 World Cup which was played in Bengaluru and won by India by 39 runs. 2011 World Cup also witnessed the epic India vs Pakistan clash in the semi-final which was held in Mohali where India emerged victorious by 29 runs. Recently, Snehasish Ganguly had stated that if India and Pakistan clash in the semi-final it will be a dream match.
The two teams will lock horns during the league stage on October 15, at the Narendra Modi Stadium, in Ahmedabad.