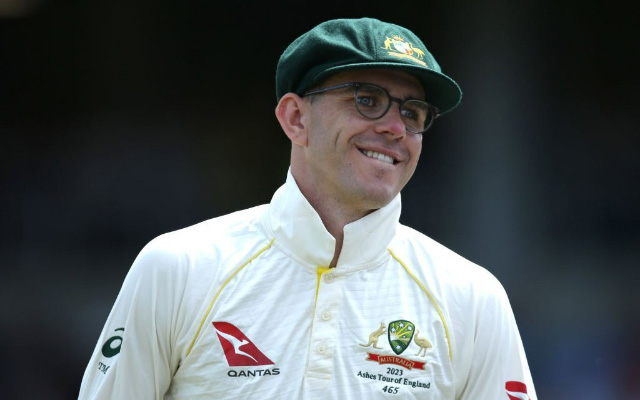 Todd Murphy, Australia's off-spinner, candidly acknowledged the toll Australian fast bowlers are bearing during the gruelling Ashes tour. Simultaneously, Murphy humbly submitted that England's strong batting lineup presented the most formidable challenge he has faced thus far in his budding career.
Australia stand at the precipice of making history, seeking to secure their first Ashes series triumph abroad in over two decades. England, relentless in their assault, have amassed a lead that inches close to the 400-run mark on the eventful third day of the fifth Ashes test.
Overcoming this formidable obstacle is no small feat, for no team has ever succeeded in chasing down more than 263 runs in the fourth innings to win a Test match at The Oval. Nevertheless, Australian spirits remain unyielding, with Murphy exuding confidence that they can overcome any target set by England in the morning.
"Confident they (Australian batters) can chase whatever (England set) in the morning," Murphy said, as quoted by Cricket.com.au
For this monumental showdown, Australia have entrusted their fate to the trio of Pat Cummins, Mitchell Starc, and Josh Hazlewood, who have spearheaded their bowling attack throughout the week. Despite their gallant efforts, sign of fatigue have begun to appear as England's batters capitalised on a pitch that has somewhat mellowed.
In Murphy's candid opinion, Aussie seamers might be feeling the strain, but their unyielding spirit and unwavering determination to clinch the Ashes have kept them charging forward. Their tireless attitude, resilience, and undying hunger for victory have been awe-inspiring.
"I'm sure they're cooked," Murphy said about the Australian pacers. "They don't show it; they keep charging in. The attitude's always there. I think the hunger, especially being the last Test and to try to win the Ashes, is there," he added.
In the absence of Lyon, Murphy, the young spinner, showcased his mettle, expertly dismissing both Stokes and Root when they seemed to be in a commanding position at the crease. The task of bowling to England in their home conditions proved to be an even more challenging ordeal, given the minuscule margin for error and the relentless pressure from the opposition.