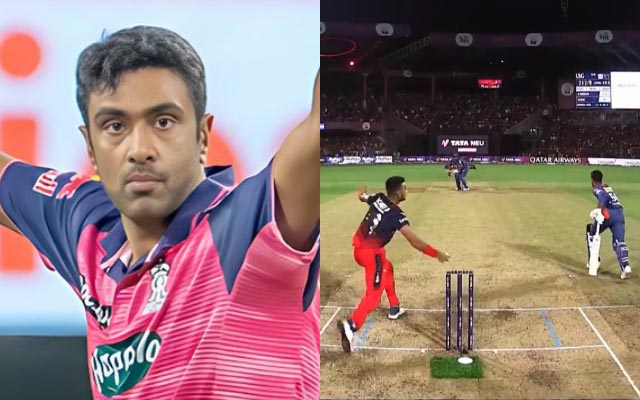 Veteran Rajasthan Royals spinner Ravichandran Ashwin backed Royal Challengers Bangalore pacer Harshal Patel after the latter's attempt of running out the batter at the non-striker's end, against Lucknow Super Giants. Notably, RCB lost the fixture against KL Rahul's Super Giants in the final ball of the high-octane clash at the M. Chinnaswamy Stadium in Bengaluru on Monday, April 10.
As the match went down the wire, Harshal was caught up in a controversial moment during the last ball. The pacer faced the heat in the final ball of the chase as the odds were stacked against RCB. Moreover, LSG required just one run off the final ball to clinch the two points.
The pacer took his usual run-up but immediately stopped as he noticed Ravi Bishnoi tracking away from the non-striker's crease. In doing so, Harshal warned the non-striker to run him out and eventually threw the ball onto the stumps.
The act evidently caused chaos in the clash at a crucial point, however, the RCB pacer had to re-bowl the final ball because a bowler cannot throw after making the first warning in the same delivery. Veteran offie Ashwin, who has previously been involved in such moments, provided his stance on Harshal's attempt. He stated that he was glad to see a bowler attempt the run out and added that more bowlers should follow the same.
I don't see what the problem is: Ashwin
"One ball, one to win. The non-striker is always going to run. I will stop every time and run a batsman out. I don't see what the problem is. I was just watching the game and telling my wife he should run him out. And he did it. I was so glad and happy that a bowler had the courage to do it and I wish more bowlers do it," Ashwin was quoted as saying by News18.
LSG eventually won the contest in the last-ball thriller and took home the crucial points. Notably, Nicholas Pooran and Marcus Stoinis' sensational performances revived the chase as the duo got 62 and 65 runs respectively. KL Rahul and Co. play Punjab Kings at the Bharat Ratna Shri Atal Bihari Vajpayee Ekana Cricket Stadium on Saturday, April 15.