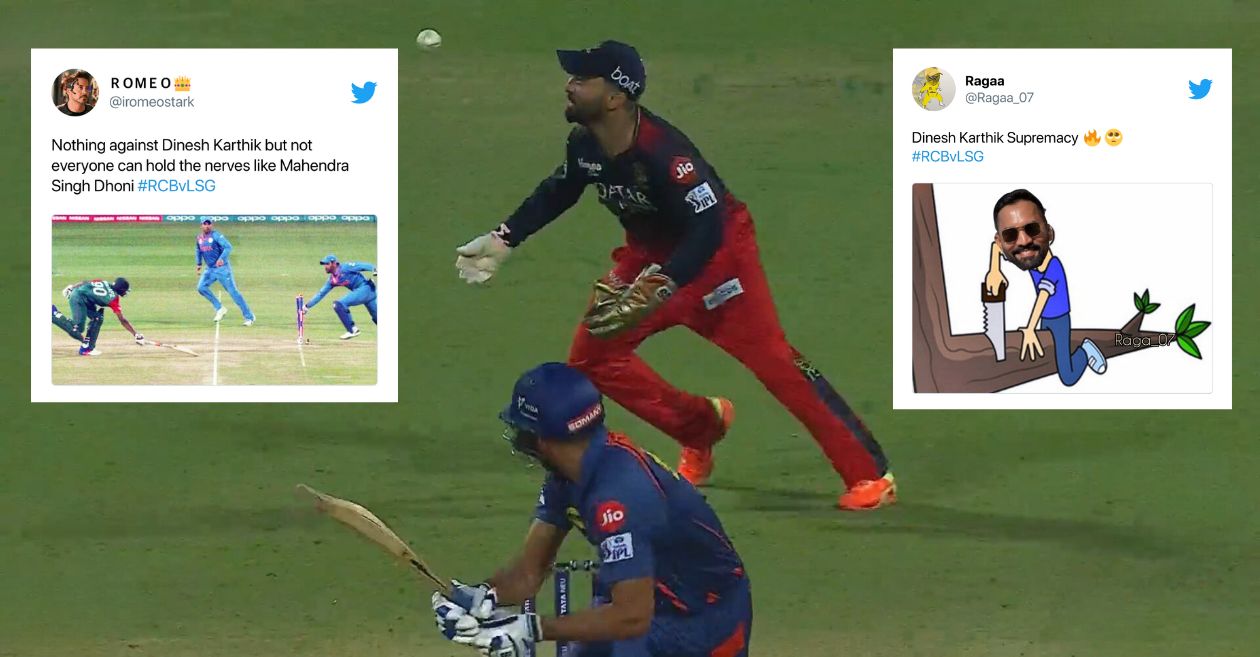 The 15th match of the Indian Premier League (IPL) 2023 saw Royal Challengers Bangalore (RCB) square off against Lucknow Super Giants (LSG) at the M. Chinnaswamy Stadium on Monday (April 10). The game turned out to be an absolute thriller, with LSG winning the contest by just one wicket on the last ball of the match.
After posting a mammoth total of 212/2 in their allotted 20 overs, RCB looked very much into the game, with their bowlers striking few quick early dismissals to push the Lucknow-based team on the back foot. However, Marcus Stoinis bailed his team out of danger by smashing 65 runs off 30 deliveries and kept their hopes alive.
Later, Nicholas Pooran's sensational 62 off 19 balls turned the game in LSG's favour and further diminished the chances of RCB. Although when it almost felt like Lucknow would win the game, wickets started falling for them, and the match went down to the final over with one run required of the inning's last ball. Meanwhile, RCB just needed one wicket to draw the match for a super over.
On the final delivery, LSG batter Avesh Khan failed to hit the ball but ran for a single with his full strength. Dinesh Karthik fumbled to collect the white leather behind the stumps and also missed the throw. The missed opportunity by Karthik resulted in one run off the byes, and LSG eventually won the contest.
Soon after the match was over, Karthik's failed attempt at the crunch moment of the game didn't go down well with the fans and subjected him to a huge backlash. The netizens trolled the 37-year-old cricketer brutally on social media and went on to compare him with former India captain MS Dhoni.
Here's how netizens reacted:
Nothing against Dinesh Karthik but not everyone can hold the nerves like Mahendra Singh Dhoni #RCBvLSG pic.twitter.com/hplSOiTCpW

— ROMEO👑 (@iromeostark) April 10, 2023
Dinesh Karthik Supremacy 🔥🥺#RCBvLSG pic.twitter.com/biJd7siqCr

— Ragaa (@Ragaa_07) April 10, 2023
I'm sorry dhoni i compared u with a player like dinesh karthik 💔 pic.twitter.com/S5vXXFa5QE

— M. (@IconicKohIi) April 10, 2023
Dinesh Karthik before last ball bowled.#RCBvsLSG pic.twitter.com/O2HpZbgN0V

— Pankaj Singh (@pankajkumar764) April 10, 2023
Dinesh Karthik you are not Ms Dhoni bruh !🤣

Vintage Haarcb is back 🔥#RCBvsLSG #RCBvLSG pic.twitter.com/oZcpE9It8q

— ᴍʀ.ᴠɪʟʟᴀ..!🖤 (@TuJoMilaa) April 10, 2023
Dinesh Karthik proved why MS DHONI played ahead of him and why Dhoni is a LEGEND. #RCBvLSG pic.twitter.com/W4AkZ5QcKk

— Kachra Seth (@Kachra_Se) April 10, 2023
anr day of thanking Ashwin Anna for doing this and saving us that day, Dinesh Karthik had almost bottled that game asw 😭 pic.twitter.com/A4WmnbBUGW

— retired ICT fan (@anubhav__tweets) April 10, 2023
Dinesh Karthik you are not Ms Dhoni 😭😂 pic.twitter.com/GFcsiH3XVp

— ShYam PraTap Singh 🔯 (@_SPSB) April 10, 2023
You'll never be him Dinesh Karthik pic.twitter.com/GbZFgeqWRV

— 🇻🇳 (@blitzkrieg71_) April 10, 2023
Being compared with MS Dhoni is the Biggest achievement for Dinesh Karthik. pic.twitter.com/1343JoGAtY

— 🄺Ⓐ🅃🄷🄸🅁 1⃣5⃣ (@katthikathir) April 10, 2023
Dinesh Karthik is such a good finisher…
One day he will finish RCB

— Priyaanka (@Priyank_hahaha) April 10, 2023
Every RCB fan right Now🤣

Dinesh karthik 🤡🤡 pic.twitter.com/AZBBQ2bpcl

— Abhishek Rathore (@abhii0200) April 10, 2023
YK whom to troll today🤣
Dinesh Karthik -CATCH EXPERT? VO KYA HOTA HAI? pic.twitter.com/cW91RL2gRh

— Shobhit (@Shobhitontwt) April 10, 2023
Drag those clowns who compared the great MSD with Dinesh Karthik last season pic.twitter.com/S9EowRUqwx

— LEO (@BoyOfMasses) April 10, 2023
For latest cricket news & updates, visit CricketTimes.com.