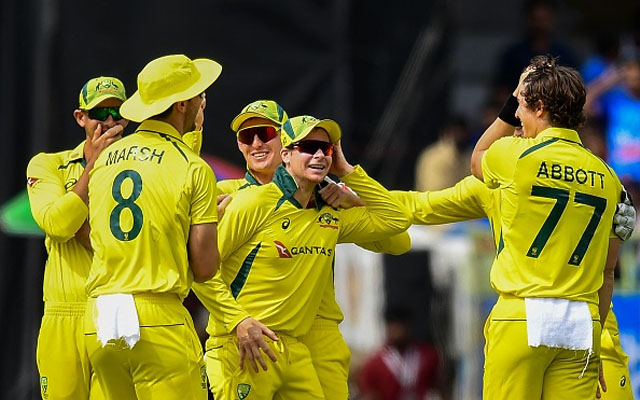 T20 cricket has completely revolutionised the entire cricketing landscape as it gave birth to numerous domestic T20 leagues all over the world. These leagues have come as a boon for international cricketers allowing them to earn more than their annual contracts with their respective boards within a few weeks.
Ever since the success of these domestic T20 competitions, cricket pundits have feared the death of international cricket. Taking another step towards the domination of T20 leagues on international cricket, Australian cricketers have been reportedly approached by Indian Premier League franchises with deals worth AU$ 7.5 million (409,680,071.64 INR approximately) to represent their teams in different tournaments.
According to a report in FoxCricket, IPL team owners, who have purchased teams in different leagues in the world, are in talks with Australia's cricketers to offer them high-paying deals for representing them in multiple tournaments across the world.
The move is expected to revolutionise the cricketing world as players will be under annual contracts with clubs rather than their country's cricket boards. After the record-breaking media rights deal of IPL in 2022 that earned BCCI a massive INR ₹48,390 crores, the salary cap of the franchises is also expected to increase to attract foreign talent through a higher pay scale.
Recently, Cricket Australia announced a new five-year MOU between CA and the Australian Cricketers' Association, with up to 24 men's players eligible to be contracted. According to the agreement, the average value of CA men's contract has increased to $951,000 annually plus match payments, with that figure expected to exceed $1 million in 2027/28.
More International Cricketers to give up central contracts in future?
However, despite the increase, the deals stand nowhere in front of 12-month contracts with IPL franchises worth up to $7.5 million. Rich boards such as England, India and Australia will be able to retain their best talent, however, the other nations might not be in a position to do so.
In 2022, star New Zealand cricketers Trent Boult and Martin Guptill were released from their national contracts in a pathbreaking deal to focus more on T20 franchise cricket. Star England all-rounder Ben Stokes also announced retirement from ODI cricket, just a year ahead of the ODI World Cup, to manage his workload.
With T20 cricket mushrooming all around the world, we could see more cricketers retiring or giving up national contracts to earn more in the T20 leagues of different countries.