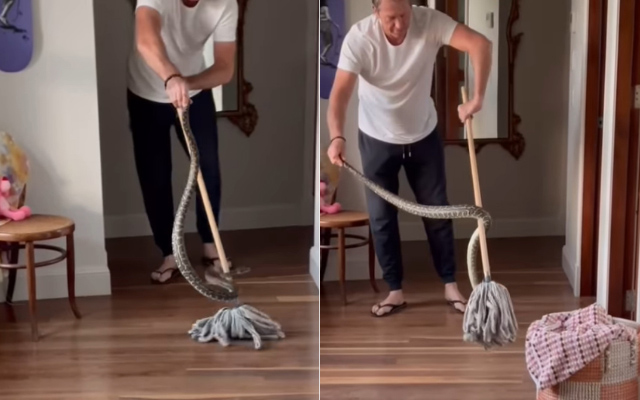 Legendary Australian cricketer Glenn McGrath was attacked by a snake at his residence on Thursday, September 7. A trio of coastal carpet pythons managed to enter McGrath's house, but the 53-year-old managed to get rid of them after dealing with them for some time.
The former cricketer posted a video of the same on his social media account and stated that with the help of Sara Leonardi McGrath, he released them safely in the bush.
"After plenty of encouragement & support from @saraleonmcgrath all 3 Coastal Carpet Pythons that were in the house were safely released back into the bush #carpetpython #snakecatcher #notthebestfootwear," McGrath wrote.
Sara meanwhile was very vocal on the video. She was nervous and constantly warned McGrath about them being dangerous and could bite the cricketer. However, the cricketer was calm in dealing with them and used a mop to eradicate them.
"That one's aggro, that one is aggro. I don't want to be videoing this. You're going to get bit, you're going to get bit!" Sara was heard yelling.
McGrath's career in numbers
The former Australia international played a key part in shaping Australia's pace bowling attack in the late 90s and in the 2000s. He was extremely impactful, and courtesy of the same, he has 949 international wickets to his name. Known as Pigeon, McGrath made his Test debut against New Zealand in 1993. He picked up three wickets in the match as it finished on level terms.
When it comes to ODIs, the former cricketer made his debut against South Africa later that year. Even though he couldn't create much of an impact in that match, the star bowler went on to win three ICC ODI World Cup trophies in 1999, 2003 and 2007, respectively. Towards the fag end of his career, McGrath also featured in a couple of T20I matches but didn't participate in the T20 World Cup in 2007. He also played in the IPL, representing Delhi Daredevils (now Delhi Capitals).