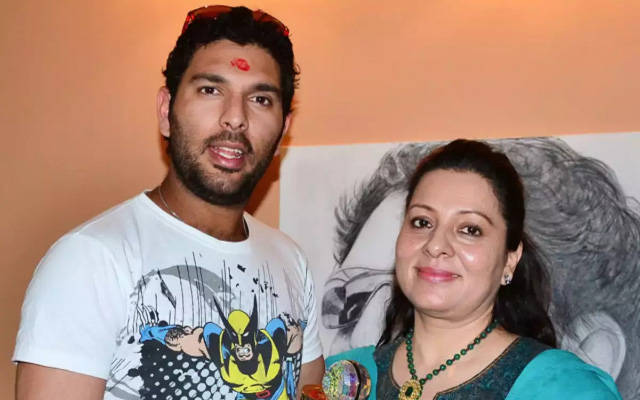 The Gurgaon police has arrested a woman ⁠ in an alleged case of extortion involving Shabnam Singh, the mother of Yuvraj Singh. The offender, known as Hema Kaushik, undertook caregiving responsibilities for Yuvraj's brother  Zorawar Singh, who has been suffering with depression for numerous years. ​
It was revealed that Kaushik was hired by the Singh ⁠ family in 2022 to take care of Zorawar. However, she was removed from the job within 20 days owing to her unprofessional behavior, as mentioned by Yuvraj's mother. The situation escalated in May when Kaushik threatened the family of tarnishing their reputation.
The police station in DLF Phase 1 ⁠ received a complaint from Shabnam Singh. As per reports, Kaushik threatened to falsely involve Zorawar in ⁠ a legal case and asked for a ransom of Rs 40 lakh. The police caught her red-handed while ⁠ accepting Rs 5 lakh, which she had asked for as the first installment. ​
"I told Hema that the amount was huge. It was decided that Rs 5 lakh will be given to her by Monday, but it was postponed to Tuesday and I moved police," Yuvraj's mother said in the complaint.
Prompt action was taken by the police ⁠ after Shabnam Singh filed the complaint, as they successfully laid ⁠ a trap and nabbed her while accepting the money. As per the information, the accused Hema, who is also known as Dimpy, is a resident of South Delhi's Malviya village.
"The arrested accused woman is identified as Hema Kaushik alias Dimpy, wife of Nitesh Kaushik, a resident of Malviya village in South Delhi. Rs 5 lakh cash was recovered from her possession. We are questioning the accused woman," Nitish Aggarwal, DCP East, told Business Today.
Yuvraj Singh, the former Indian cricketer, renowned for his exceptional left-handed batting and all-around abilities, retired from all forms of cricket a few years back. However, he is now making a comeback to the cricket field as he will be playing in the inaugural edition of the US Masters T10 League 2023, where he will represent the New Jersey Legends. The tournament is slated to kick off on August 18 and will culminate on August 27.