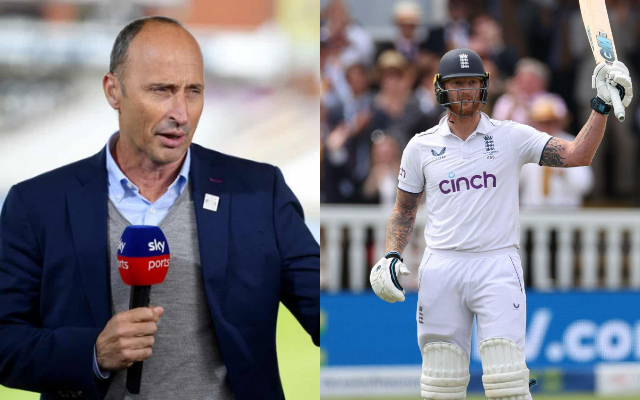 The second Ashes 2023 Test did not land in England's favour as well, after losing the first Test by a bare margin, despite the hosts putting in a valiant effort at Lord's. After a heartbreaking loss in the 1st Test at Edgbaston, things did not get better for the hosts at Lord's either, as they failed to chase down a target of 371 runs in the second innings and conceded a 2-0 lead ahead of the third game at Headingley.
The biggest positive for England in the second Test was the performance of skipper Ben Stokes. Aiming to chase down the target, Stokes played a brilliant knock, scoring 155 runs in 214 balls to give his side some chance. Almost repeating his heroics from the 2019 Headingley Test, the English skipper played a brilliant knock. However, it went in vain in the end.
Stokes' innings gained major traction from fans and fellow players alike, with former England skipper Nasser Hussain coming forward to laud the performance of the England skipper. Hussain has mentioned that Stokes is the most competitive English cricketer that he has ever seen.
"I haven't seen a more competitive England cricketer in my time than Stokes and it's amazing too how often he gets the ball out of the middle of the bat in these kinds of situations when all the fielders are on the rope. If he doesn't clear them, he gets it in the gaps," Nasser Hussain wrote in his column in the Daily Mail.
"For some people, the tactic Australia used of protecting the boundary, stop them scoring but as we saw in Leeds four years ago, he is one of those cricketers — because he's so powerful, and his placement is so good — for whom it makes no difference," it further read.
Furthermore, Hussain also opined that Stokes is one of the best batters in world cricket when it comes to chasing down targets, and recounted various times when Stokes showed why he is one of the best batters in world cricket.
"Ben Stokes showed his colleagues in the dressing room what playing for his England team is all about on Sunday — and there is no better cricketer in my era in that kind of situation, he has done it so many times, whether it be the World Cup final, World Twenty20 final, or Headingley four years ago and it was remarkable on Sunday that he almost added another match-winning masterclass to his portfolio," his column read.