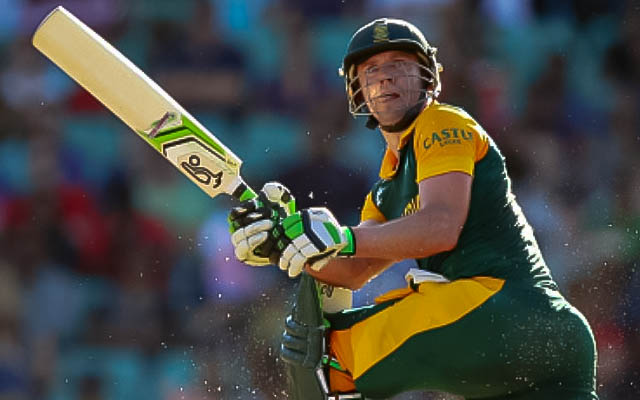 Former South Africa skipper AB de Villiers picked the legendary Shane Warne, India speedster Jasprit Bumrah and Afghanistan spin sensation Rashid Khan as the most difficult bowlers he ever faced.
Since retiring from all formats of the sport in 2021, de Villiers has been spending time with his family. However, he made his appearance in JioCinema's commentary panel for the recently concluded IPL 2023, providing his invaluable opinion during the matches of the competition.
De Villiers said that Warne's aura and the manner in which he carried himself added to the challenge of facing him, while Bumrah and Rashid's habit of being "in your face" made them tough opponents to get away with.
"I think Shane Warne in 2006 the first time I travelled to Australia, not so much because of skill and technique and also just the presence of the man and the aura he carried. And obviously I was quite inexperienced. I knew from the get-go he was going to get out," de Villiers told Robin Uthappa in a chat on JioCinema.
"That game felt easy, but he was just a smart, incredible player, and it worked out pretty quickly. That's my technique. It's not quite spot on when it comes to playing straight. So, he was really going slow, slow, slider straight. And I missed the straight one and not long after that, that was my weakness for 2005, 06 and 07 I would miss straight balls, especially angling a bit back," he said while recalling his first experience of facing Warne.
"As I got older but more experienced, there came new challenges of bowlers like (Jasprit) Bumrah was always very challenging because he was so competitive, he would never back down, is always in your face so I've got a lot of respect for him and the way he plays his cricket. I got a hold of him even a few times. He came back at me and got a hold of me a few times and I love that competitiveness.
"Rashid Khan, tough to pick at night once again. Got him a few times and he would always come back. Always in your face. I hit him with three sixes, as he was trying to get me out the next ball. And those are the kind of bowlers I always found difficult to face and always had a lot of respect for," he added.
Menawhile, Bumrah has been confined to the sidelines since September 2022, owing to a recurring back injury. The pacer is currently in Bengaluru at the National Cricket Academy (NCA) for his rehabilitation following a surgery. Bumrah is eyeing a return to the national setup for the eagerly-anticipated 2023 ODI World Cup, slated to commence on October 5 in India. The Men in Blue will play their first match against five-time winners Australia on Sunday, October 8, at the MA Chidambaram in Chennai.