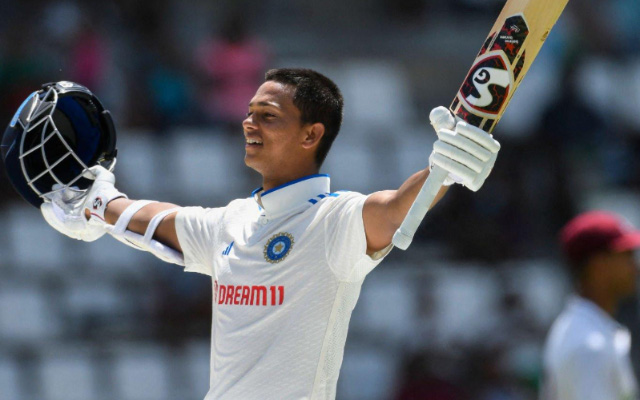 India's bowling coach, Paras Mhambrey, couldn't hide his delight as he praised the outstanding performance of debutant Yashasvi Jaiswal during the first Test match against West Indies. Jaiswal, falling just 17 runs short of breaking the record for the highest score by an Indian batter on Test debut, showcased his talent with an impressive knock of 171 runs. Despite his reputation as an aggressive batter in shorter formats, Jaiswal displayed adaptability and patience on a slow pitch.
Mhambrey stressed the significance of adapting to different conditions and situations at the international level. He commended Jaiswal for exceeding the team's expectations and playing a crucial role in the match. The bowling coach believes that Jaiswal's exceptional performance, combined with his previous achievements in the IPL, will boost his confidence for future games.
In the post-match press conference, Mhambrey stated, "I think the way he batted, it's been fabulous. For a debutant to come in not on an easy wicket – it was obviously a slow wicket that got slower as the game progressed. Strokemaking wasn't easy. If you look at the way he's batted earlier, he's the kind of a guy who likes to take on the game, likes to play his shots, but the way he applied himself on that wicket was very good to see."
Adapting to different conditions and situations is crucial at the international level, and Jaiswal demonstrated his ability to do so. India's dominant performance in the Test match saw them bat for 152.2 overs across the first two days, while swiftly dismissing West Indies twice in just 115 overs. This victory allowed India to bounce back from their loss in the WTC final against Australia and make a strong start to the next WTC cycle.
The pitch in Dominica was convenient for the visiting team as they anticipated that the spinners' effect would increase as the game progressed, and their expectations came true. Ravichandran Ashwin surpassed Harbhajan Singh's record for most five-wicket hauls in a Test match with his 33rd one and rose to second place among Indian wicket-takers with 709 dismissals. Ashwin also equaled Anil Kumble's record of eight 10-wicket hauls in a game. Ravindra Jadeja added to the effective bowling effort by taking three wickets in the first innings and two in the second.
India's comfortable victory in the first Test against West Indies highlights the strength and adaptability of the team. Jaiswal's exceptional debut innings, combined with the remarkable performances by Ashwin and Jadeja, showcase India's depth and talent in both batting and bowling departments. As the series progresses, Indian fans can expect more thrilling performances from this formidable Indian side.