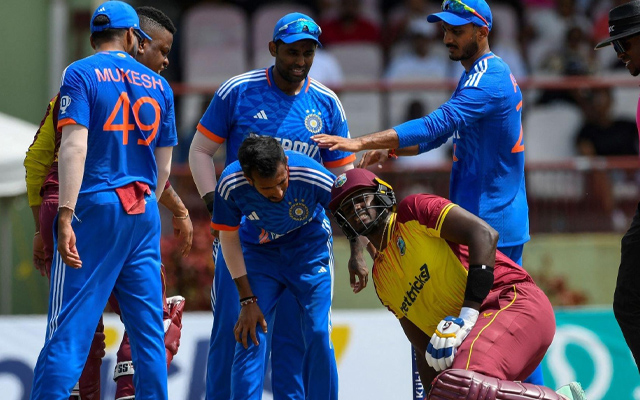 In the ongoing T20I series between India and West Indies, the spotlight has turned towards Hardik Pandya's captaincy decisions, particularly in the bowling department. Former India opener Abhinav Mukund, while sharing his insights, highlighted a key aspect that could potentially shape the outcome of the fourth T20I.
Mukund's analysis centers on the utilization of spinners, particularly the left-arm spinner Axar Patel. He commended Pandya's approach in the third T20I, where Axar Patel was employed effectively in the powerplay and just after it. Mukund's perspective sheds light on Pandya's initial uncertainty regarding how to optimally use Axar Patel, especially during later overs.
"I thought Hardik Pandya's captaincy was on point in terms of the third T20I," Mukund said as quoted by Sports Keeda.
However, Mukund also suggested a tweak in strategy, emphasizing the wise use of Mukesh Kumar. He advised Pandya to introduce Mukesh Kumar earlier in the innings, potentially before the 14th or 15th over. This approach, as Mukund explained, would not only provide Kumar the opportunity to adapt to different match situations but also ease the burden on death bowlers.
"Not only that, I feel he could have given Mukesh Kumar maybe an over or two before the couple of overs that he bowled at the death," Mukund elaborated.
RP Singh, a former Indian pacer, echoed similar sentiments, advocating for a well-rounded distribution of bowling responsibilities. Singh raised concerns about Pandya's decision to utilize Axar Patel for four consecutive overs, emphasizing the importance of versatility.
"I want him to use his bowlers better because he used a lot of spinners in different-different ways in the third T20I," Singh stated.
Singh and Mukund's viewpoints converge when it comes to the role of Mukesh Kumar. Both experts believe that Kumar's capabilities extend beyond the death overs, suggesting his involvement in the powerplay as well.
"Mukesh Kumar can be given some bowling in the powerplay for sure. It is not that Mukesh Kumar is only a death bowler," Singh affirmed.