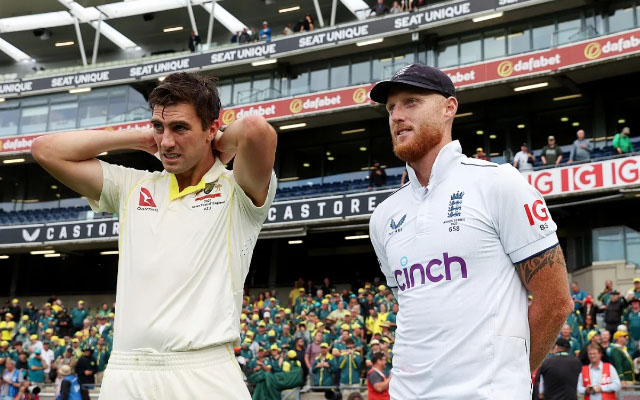 Day 5 of the second Ashes Test at Lord's witnessed a defiant knock from England captain Ben Stokes as he scored 155 runs in 214 balls, almost single-handedly taking his team close to a mammoth 371-run target set by Australia. In the end, the World Test Champions managed to come out on top by 43 runs to go 2-0 ahead in the Ashes.
Stokes' superlative knock, however, wasn't the only big talking point that emerged from Day 5. Jonny Bairstow, who joined his captain at the fall of Ben Duckett's wicket, was stumped under unique circumstances. With England needing another 194 runs for victory, the sixth wicket partnership between Stokes and Bairstow was going to be crucial for the home side. However, they could only add 16 runs in unison as the wicketkeeper-batter was stumped by Alex Carey off the bowling of Cameron Green.
The Aussie all-rounder bowled a bouncer in the last ball of the 52nd over, which Bairstow ducked with relative ease. The England batter didn't look back as he left his crease for the change of ends. However, the ball was still in play, and Carey calmly hit the stumps with an underarm throw. Bairstow was out stumped, and this led to a serious debate as a section of cricket enthusiasts felt that Pat Cummins and Co. should have withdrawn the appeal and called the right-handed batter back, upholding the spirit of the game. Others, however, felt that the away side did no wrong. After the match, Stokes opened up on the controversial moment, admitting that it was out but also mentioning that if he were in Australia's shoes, he would have thought about the spirit of the game.
"At the end of the day, it was out. But if the shoe was on the other foot, I would have had a think about the spirit of the game. We just have to move on," the southpaw said during the post-match presentation.
It's in the Laws, totally fair play: Pat Cummins
Australian captain Pat Cummins also shared his views on the incident. The right-arm pacer said that wicketkeeper Alex Carey had seen a similar incident before and pointed out that the dismissal is a part of the laws of the game.
"Carey saw it happen previously, it's in the Laws, totally fair play. That's how I saw it," Cummins said at the end of the game.
According to Law 20.1.2, the ball was not dead. The law states:
"The ball shall be considered to be dead when it is clear to the bowler's end umpire that the fielding side and both batters at the wicket have ceased to regard it as in play."