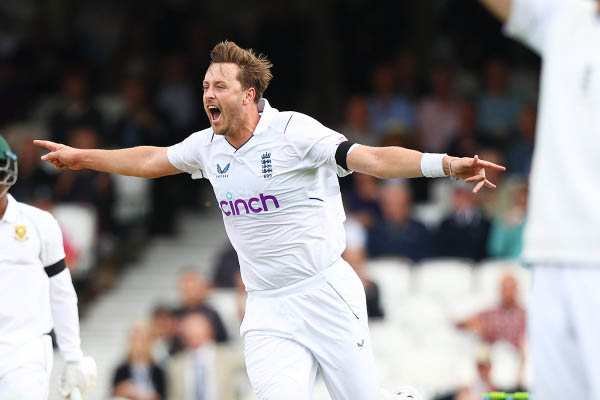 The ongoing Ashes 2023 has been a riveting affair as cricket lovers have enjoyed every single day of the three Tests that have been played so far. The best part about this year's Ashes has been that all three results were possible heading into the final day in each of the three Tests. After back-to-back wins, Australia succumbed to a three-wicket loss in the third Test at Headingley. By virtue of the win, the hosts kept their hopes of reclaiming the Ashes alive. However, they would have been fretting over the niggle Ollie Robinson received during the third Test.
The seamer was spotted limping off the field with a back issue on Day 1 of the third Test. He managed to recover and played an important role in helping his team secure their first victory in the high-voltage series. However, English fans would have been worried about his fitness ahead of the fourth Test in Manchester. All doubts have been put to bed by the man himself as the 29-year-old has declared himself fully fit and ready.
"It was so frustrating to get that back spasm on day one. I was really looking forward to bowling on that Headingley pitch and it was coming out nicely, but these things happen. Normally when I've had back spasms before, they've built up and I would feel it coming on. Whereas this was on landing, it was just a sudden, quick stabbing feeling in the back," Robinson told Wisden.
"I told (Ben) Stokesy, and he said to get off and see the physio. I think we caught it earlier than I have done in the past. I had some acupuncture, a bit of treatment, and I was fine after that. I was available to bowl on the third day if I'd been needed. The medical team said that's it's likely to have happened because I played back-to-back Test matches, and bowled 15 overs of bumpers at Lord's. So sometimes these things come around, but then they go just as quickly as well. I'm 100 percent fit for Manchester," the pacer concluded.
England name unchanged squad for fourth Test
For the fourth Test, beginning July 19, England have retained all the 14 players who were in the squad for the Headingley game. After finally cracking the winning formula, it can be expected that the Ben Stokes-led side will stick to the same playing XI as well, barring any last-minute niggle. The Ashes is intriguingly poised with Australia leading 2-1.