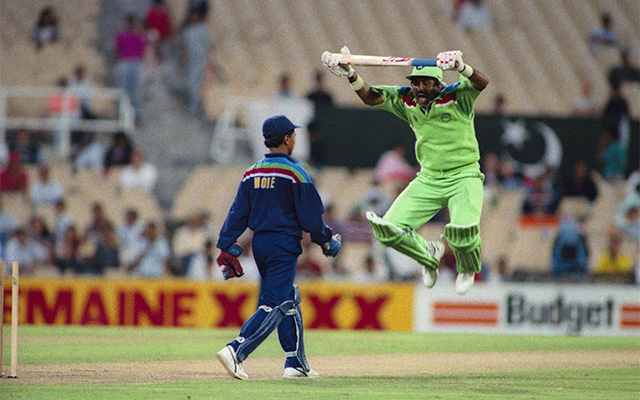 India-Pakistan have an age-old legacy starting from the 1950s. Post-partition and independence of both countries, their rivalry started growing by leaps and bounds. This ignited because of the similarities on different levels. Hence, a healthy on-field rivalry is used to get the best out of the players. They feel more pumped up to step up for their teams.
Their passion and hunger to win are second to none. Such is the expectation from the fans, if the players got defeated they would be humiliated badly. And if they won, they would be given a king-like honour. So, there always lies a moment of heroism in these matches.
In such cases, sometimes things get out of control in the heat of the moment. Players lose their calm and involve themselves in altercations. But thankfully it has stayed on the field and never blew out of proportion. They all take it sportingly as long as it doesn't get personal.
5. Javed Miandad and Kiran More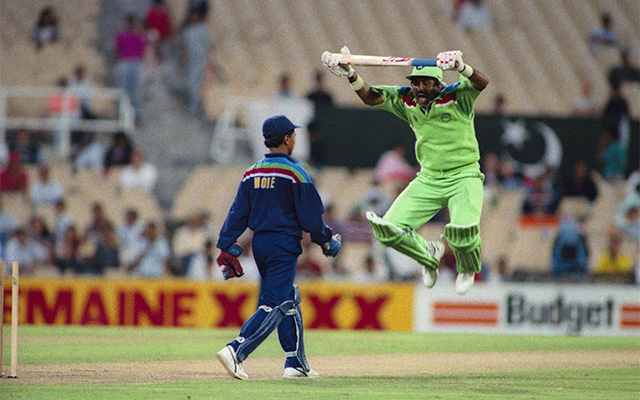 If cricket fans from the early '90s era associate the India-Pakistan clash with something intriguing, it has to be the famous imitation of Kiran More by Javed Miandad. This time stage was set in Australia, during the 1992 Cricket World Cup. The incident took place while Pakistan were batting against the Men in Blue.
Miandad used to be an ace middle-order batter for his side, and any opponent would dream of getting him out cheaply. The prime reason for it was his impeccable match-winning abilities at the time. For India, Kiran More was the keeper standing behind the stumps. Like other keepers do, More was also seen appealing for quite some time in excitement, he might have jumped a few times.
This caught the eyes of Javed. He got annoyed at More's excessive appeals and complained to the umpire. That didn't stop More from doing this part of mind games. However, an agitated Miandad pulled up a trick up his sleeves. The batter came close to the stumps and out of nowhere, hilariously jumped thrice to mimic More's high spirit. At that moment, everyone was shocked to see something like this in a serious match. But again, it was Javed Miandad, the legendary yet funnily competitive batter from the neighbouring country.
4. Aamer Sohail and Venkatesh Prasad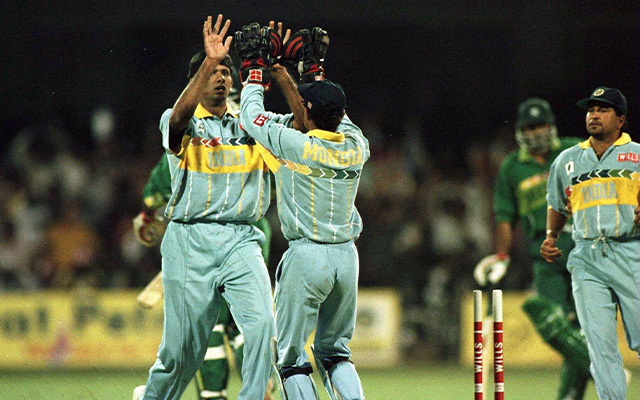 The quarter-final match between India and Pakistan during the 1996 Cricket World Cup was played in Bengaluru. While chasing a humongous 288-run target, Pakistan were off to a flying start. Both the openers, Aamer Sohail and Saeed Anwar were cruising the score rate at 9 runs per over at one stage. Even though Saeed Anwar got dismissed Sohail was still going all over.
Then came Venkatesh Prasad from the other end. He pitched this one slightly up in the off-stump line and Sohail came charging down to hit through the gaps. As soon as the ball touched the ropes through covers, Sohail walked up to Prasad while he was on his follow-through. He pointed to the boundary, showing that's where he (Prasad) belonged.
It got Prasad charged up as he steamed in with the ball in hand. In the very next ball, he uprooted the off stumps as Sohail got deceived by his bowling. The crowd erupted in joy as soon as Prasad gave an animated send-off to Sohail, a very unlike gesture from Prasad. This video clip still remains popular over social media and fans engage themselves in that moment each time they watch some unforgettable moments of the India-Pakistan rivalry.
3. Harbhajan Singh and Shoaib Akhtar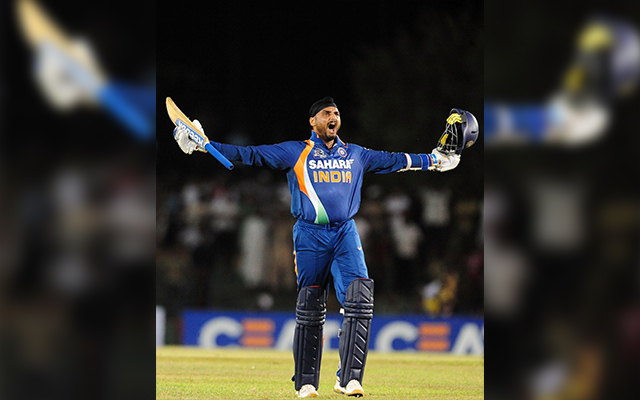 India's and Pakistan's two most hot-headed guys Harbhajan Singh and Shoaib Akhtar were involved in this incident. It happened during an Asia Cup match in Sri Lanka, back in 2010. India were given a stiff 268-run target by Pakistan. Moreover, it was a must-win game for India to stay relevant in the tournament.
While chasing, India were cruising well at one stage in pursuit of the target. But after MS Dhoni and Gautam Gambhir got out despite having some considerable time in the middle, it looked quite a tough ask for the rest of the batters to come and try to get as close to the target as possible. Interestingly, the lower order of India kept their cool and sealed the match.
Notably, at the business end of the innings, Pakistan's speedster, Shoaib Akhtar, came to bowl the penultimate over. He was up against Suresh Raina and Harbhajan Singh. Harbhajan was trying to get Raina on strike when 7 runs were needed off 8 balls. But Shoaib decided to hit the hard lengths and both deliveries were over-the-shoulder bumpers, which denied Harbhajan a single.
It was at this moment, Akhtar and Harbhajan got involved in a verbal altercation. Post this moment, it ignited a fire within Harbhajan as he indicated to Akhtar that he would smash him out of the park. As a result, in the last over, Harbhajan Singh smacked a six, over the deep mid-wicket region, to snatch the victory for Team India. Now, both of them share light moments recalling this interaction.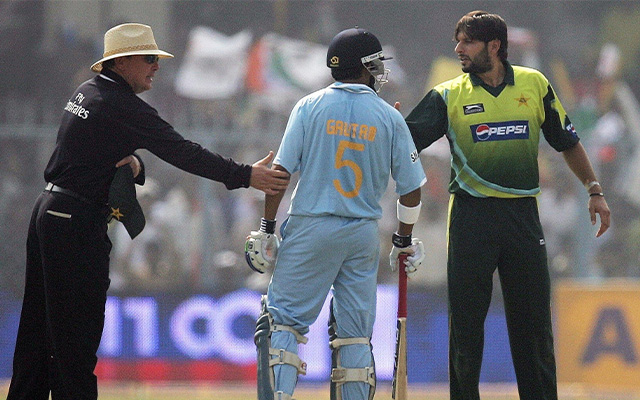 Former Indian opener Gautam Gambhir is known for on-field altercations among his peers. The opener, who played an integral part in India's last two World Cup successes is seemingly a hot-headed person. So is Pakistan's Shahid Afridi. Afridi being the all-rounder he was, always remained in the news for different reasons.
One of the incidents happened involving these two cricketers during the bilateral series. Back in 2007, Pakistan toured India for the series. During the third match of the ODI series, Gambhir hit a boundary off Afridi's bowling and said something nasty things. Though Afridi didn't react much to the provocation initially, later in the same over they collided while Gambhir was trying to sneak a single. Consequently, a verbal spat between these two stalwarts of the game broke out during the game.
Things started to look ugly as the match officials had to intervene to keep them apart. After the match, the match referee produced a report to the ICC (International Cricket Council) regarding this issue and some heavy disciplinary actions were taken. Afridi was fined 95 per cent of his match fees while Gambhir had to pay 65 per cent of his match fees as a punishment.
The most funniest yet controversial incident happened between a cricketer and a fan. It's hard to believe something like this can actually break out while the game is on, but it really did. The incident took place in Toronto, Canada, during the Friendship Cup back in 1997. The incident happened during India's batting in the second ODI.
Inzamam ul Haq, who used to field inside the thirty-yard circle, was fielding in the deep on this occasion. At this juncture, an Indian spectator named, Shiv Kumar Thind, started to intimidate Inzamam by saying " O Mote, sidha khada ho…. Mota aaloo, sada aaloo (Hey big guy stand straight, you look like a potato)".
With the fan increasing his intensity of trying to sledge the legendary Pakistan batter, Inzamam got really upset with him. But what happened at the end of 16th over, was out of the blue reaction. He went into the stands to that person. The spectators tried to separate them until Inzamam snatched a bat from one of the reserve players. Thankfully, security guards came in the way to take control of the situation. Notably, this incident caused a 37-minute delay to the game.
Later on, Inzamam Ul Haq stated his reaction and actions were justified. Both the parties filed assault charges against each other. However, the Pakistan legend later on withdrew the charges, but could not escape the wrath of the ICC as he was fined for two matches for his behaviour on the field.