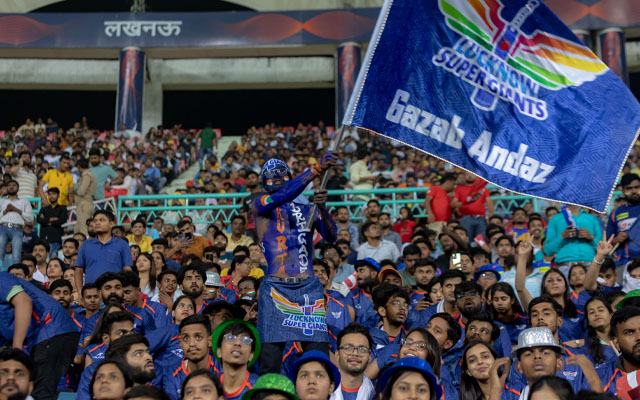 Lucknow, 28 June 2023: The Lucknow Super Giants have produced standout performances in back-to-back IPL seasons on the field, however, the RPSG Group-owned team, led by Dr. Sanjiv Goenka, also pulled off stunning accomplishments off the field during the course of IPL 2023.
With the Indian Premier League going back to the home-and-away format this year, the Super Giants grabbed their opportunity of engaging with their home fans for the first time. The franchise's 360-degree integrated marketing campaign highlights included outdoor advertising at over 100 sites across Uttar Pradesh, a partnership with Radio City, several on-ground activations to build LSG's 6000+ strong fan club "LSG Brigade", as well as extensive coverage across online and print media in multiple languages.
The season was kicked off with a glitzy jersey launch event on March 8 in the presence of BCCI Secretary Jay Shah, key players like KL Rahul and Krunal Pandya among others, and was streamed live in eight major cities across Uttar Pradesh.
In addition, the Lucknow Super Giants conducted Jashn-e-LSG – an open bus roadshow with the team from Rumi Darwaza to Ambedkar Park in the city of Nawabs. The roadshow was followed by the world's first-ever cricket-themed drone show, with spellbinding still and motion pictures captured and shared across social media.
The BRSABV Ekana Cricket Stadium hosted IPL matches for the first time, and the franchise worked closely with the UPCA and stadium authorities to make the necessary infrastructural upgrades to ensure that the venue met international standards.
The Lucknow Super Giants' initiatives resulted in around 3 lakh passionate fans thronging the stadium throughout the season, at an average of an almost full-capacity (50,000) crowd for Lucknow's first-ever season at home. Furthermore, LSG and Lucknow Metro worked together to provide special late-night trains and feeder buses to make it easier for fans to head back home after matches. A fleet of E-Rickshaw shuttle rides was also organized at the stadium.
Speaking about the off-field initiatives, Col Vinod Bisht, MD & CEO, RPSG Sports Pvt Ltd said, "Forming an emotional connect with the cricket fans in Uttar Pradesh was critical for us, and therefore we were thrilled to see that our initiatives paid rich dividends. Attracting big crowds to a new IPL venue was always going to be a difficult task, but our team emerged victorious in challenging circumstances."
In the digital world, LSG rocketed up the charts in 2022 and stole the show with unparalleled video content across channels. The franchise engaged popular UP-based content creator Shubham Gaur, who created multiple viral short and long-form video IPs, helping the Super Giants cumulatively record over 500 million views during the season. The franchise registered the highest Engagement Rate, a metric which measures the quality of content, among all IPL teams on Twitter and Facebook. Moreover, they added about 3 million new fans to their social channels and reached close to 2 billion people around the world online.
In the sponsorship space, LSG attracted over 20 commercial partners across industries like Fantasy Gaming, EVs, Industrial Steel, FMCGs, Digital Collectibles and NFTs, and more. The brands included My11Circle, Shyam Steel, Greenply, JIO, Vida by Hero Motocorp, Bondtite, Too Yum, Prayag, Spencer's, Somany, Fan Craze, Royal Challenge, Kingfisher, Campa Cola, Dr. Vaidya's, Amul Organic, Radio City, Big Ant Studios and Souled Store.
After a great start in IPL 2023, the Lucknow Super Giants are keen to take their off-field game to an even higher level and grow their fan base across India and the world, in the years to come.