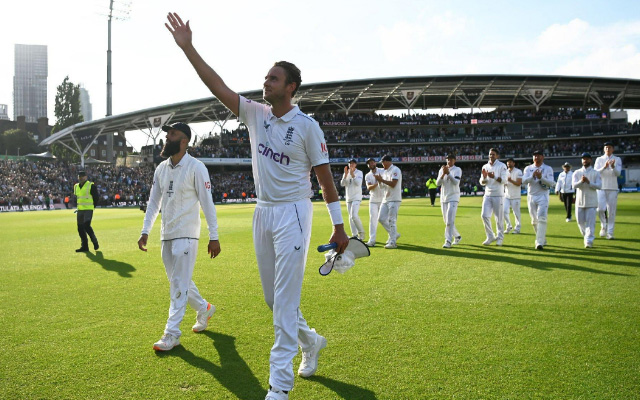 Veteran England pacer Stuart Broad has made a fairytale ending to his Test career, as the hosts won the fifth and final Ashes Test, at The Oval, in London. On Day 5 of the fifth Test, Ben Stokes and Co. outplayed Australia by 49 runs for a series (2-2) equalizer.
Notably, Broad picked up two wickets, which included a wicket off the final ball when he sent Todd Murphy packing to the pavilion to finish the game. Reflecting on his last wicket, the veteran said it was fantastic to win the Ashes Test with the last ball wicket. The 37-year-old bowed out on a high note with a total of 604 wickets at an average of 27.68 from 167 matches in his illustrious Test career.
"It was absolutely wonderful. The crowd were unbelievable. It was so loud and we just jumped on the back of that. To contribute to the team with two wickets is very special. When you make that decision you wonder what your last ball will be so to take a wicket to win an Ashes Test match is pretty cool," Broad told Sky Sports.
I thought Chris Woakes and Moeen Ali set the tone absolutely unbelievably: Broad
Broad further lauded Chris Woakes and Moeen Ali for their efforts in the fifth Test. He reckoned that Woakes did an excellent job, by dismissing ace Australia batter Steve Smith. He added that Ali, who bowled 23 overs for three wickets despite a groin strain, deserves a special mention.
"I thought Chris Woakes and Moeen Ali set the tone absolutely unbelievably. Woakesy picked up a couple of wickets, particularly Steve Smith, who has just been a wonderful player to play against all these years. Once we got a couple we really started to believe," the lanky pacer continued.
"A special mention to Moeen, he's not officially announced he's moving on, but we've played a lot together and he's been such a special friend. To put that performance in to help England win an Ashes Test match will be a dream come true for him," the 37-year-old added.