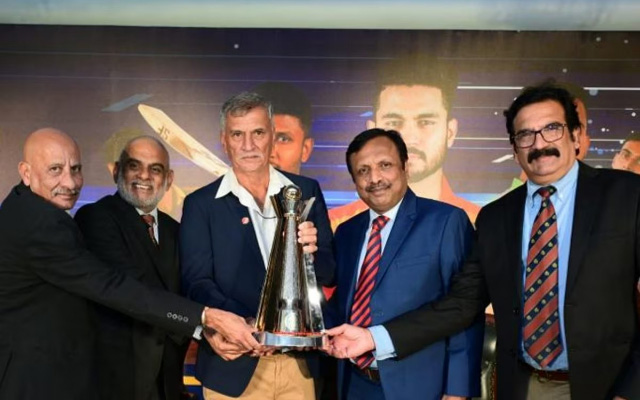 Bengaluru, 8th July 2023: The Maharaja Trophy KSCA T20 is all set to entice and enthral cricket lovers as it's set to return this August with the second edition.
Scheduled to be held from 14th August to 30th August 2023, the tournament will see Hubli Tigers, last year's champions Gulbarga Mystics, Kalyani Bengaluru Blasters, Mysore Warriors along with two new franchises from Mangalore and Shivamogga vying for top honours. It has been decided that all 33 matches will be held in Bengaluru.
"All preparations are in place to host the second edition of the Maharaja Trophy KSCA T20. This year, we will conduct the league with six franchise-based teams and will have new owners coming in for Mangalore and Shivamogga.
"We believe that restricting the number of teams to six, ensures highest quality of cricket. Last year, we saw some fantastic matches that were not only entertaining but also gave a brilliant platform for local talent to shine and be recognised. We look forward to unearth some fresh talent in this edition too," stated BK Sampath Kumar, Commissioner of Maharaja Trophy and Hon. Vice President of KSCA.
Speaking on his association with the marquee tournament, Charu Sharma, one of the visionaries behind success of the tournament said, "It has been a pleasure to be an integral part of the Maharaja Trophy KSCA T20 since its inception in 2009. Without question, it remains India's leading domestic T20 cricket League."
He further emphasized on its value towards strengthening the cricket ecosystem in Karnataka, "As a vibrant, professionally managed event, it continues to give the hard working cricketers of Karnataka a high profile opportunity to showcase their skills. Now in its second season, there is no doubt that the Maharaja Trophy KSCA T20 is all set to unearth another set of future white ball stars of India."
A total of Rs. 35 Lakh has been designated as the prize money for the top four teams. The winners will receive Rs. 15 Lakh while the runners-up will receive 10 Lakh, with the remaining amount split between the third and fourth placed teams.
This year, the tournament returns to a franchise-model. A player auction has been tentatively scheduled for 22nd July where each franchise will have a purse of 50 Lakhs. Players will be slotted into four categories.
Category A will feature India and IPL players, Category B will feature all senior players that have played BCCI State tournaments such as Vijay Hazare Trophy, Ranji Trophy, and Syed Mushtaq Ali Trophy, while Category C will consist of players from all other BCCI tournaments.
Category D is reserved for all registered players of KSCA. The auction stipulates that each team must have a minimum of 15 players and no more than 20 players including two players from their respective catchment areas.
Speaking about his experience in the first edition, ace cricketer Mayank Agarwal who captained Kalyani Bengaluru Blasters said, "The experience of playing the Maharaja Trophy last year was really good. We had great competitive games which got the best out of us and also tested us in high pressure situation.
"We look forward to more such games this season . A tournament like this really helps unearth talent and gives the players a good platform to show their skills and also their mentality."
The first edition of Maharaja Trophy witnessed unprecedented success last year. The tournament accumulated a total of 1.5 billion viewing minutes, comprising 9.1 million viewers across the state of Karnataka and 30 million viewers in total.
This year, the broadcast partner will be Star Sports 2 (HD and SD), Star Sports Kannada and OTT partner will be FanCode. TCM Sports Management has been appointed to manage the Maharaja Trophy exclusively.
As the marquee property is all set to resume, it is bound to bring to the fore numerous talented cricketers from the state. Last year's star performers included Rohan Patil (Gulbarga Mystics), Luvnith Sisodia (Hubli Tigers), Mayank Agarwal (Bengaluru Blasters), Chethan LR (Bengaluru Blasters) and Pavan Deshpande (Mysore Warriors). Bowlers who shined in the tournament were Vidyadhar Patil and Shreyas Gopal (Mysore Warriors), Vidwath Kaverappa (Gulbarga Mystics).
Matches will be live on Star Sports 2 (HD and SD), Star Sports Kannada and OTT partner will be FanCode.