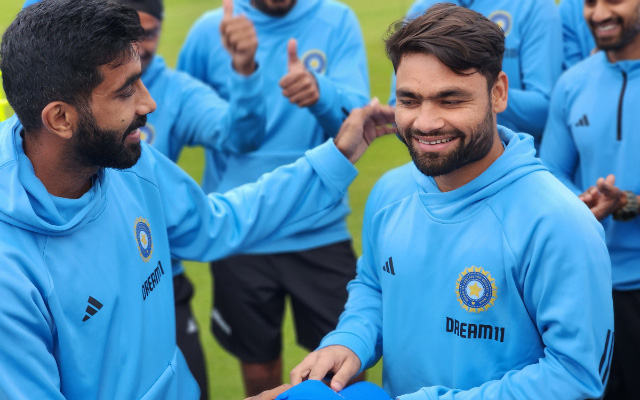 Rinku Singh has been the talk of the town ever since the 2023 edition of the Indian Premier League, where playing his trade for the Kolkata Knight Riders, he lit up the tournament with crucial cameos down the order to change the complexion of games.
Rinku, who has been part of the league since 2018, was not a regular in the XI in his initial years, but his compelling shows with the bat in 2023 meant he got a run in in all 14 games for his team, amassing an impressive tally 474 runs at a stellar strike rate of 149.53, including four half-centuries.
The southpaw became a household name after his ruthless onslaught against Gujarat Titans' Yash Dayal, whom he whacked for five sixes in an over to seal a match for the ages for KKR. While his team's journey at the tournament did not go beyond the league stages, Rinku's exploits and a reliable domestic cricket record earned him an India call-up, making a complete rags to riches story.
Coming from a humble background, the cricketer fulfilled his dream to don an India shirt as he debuted for the national team against Ireland in the first T20I of the three-match series on August 18 in Dublin. Rinku talks about his arduous journey and burning desire of earning his maiden India call-up. As told to Jio Cinema:
How do you feel being part of the Indian team setup? Does it feel like a dream come true?
It is a nice feeling because I have worked very hard to reach here. I picked up cricket almost 10-12 years ago and the one goal my parents set for me was to represent the country. They felt IPL is played by so many but only a few get picked for the Indian team so they wanted me to make the most of my opportunities in IPL and get to the Indian team. And now their dream is about to come true.
Where were you and what were you doing when you heard about your India selection?
I was in Noida with my friends when I got a call about my selection. Immediately after the news I called my mother and she got very emotional. Listening to her emotion-laced voice, I couldn't control the tears of happiness. They were waiting for this moment for a while now.
At what age did you set yourself a goal of playing for India Tell us about your journey from then till now?
A lot of blood and sweat has gone behind to earn this call. My passion for the sport helped me wade through a lack of support and financial hardships. One thing that kept the desire burning was to give my family a good life, which was possible if I moved up the ladder in the sport. I had that self-belief and that made me stronger and helped me in my journey which has taken a new turn.
What was your family's reaction to the news?
They were very happy. My mother always told me to work as hard as I can to earn the India call and that has happened now, so I am living their dream.
Tell us more about the challenges you faced to make it up here?
I have seen my family face financial struggles and I wanted to help them overcome through cricket. That desire to get them out of the grind kept me going. It kept me motivated to work hard and keep up my efforts.
What role did the family play in your journey?
My family had a massive role in my journey to date. When they didn't have enough to fund my career, my mother borrowed money from others to keep me going. Where I am today is because of the support I have got from them.
You have had impressive outings in IPL, how are you preparing yourself mentally for international cricket?
The efforts are same to be honest, but the pressure is a little more. The intention is to continue to do things the same way I did during the IPL, keep my calm during batting and focus on the role I have in the team.
Do you have any personal goals?
I have achieved the first goal I set out to achieve, i.e., to get selected for the Indian team. From here on, I will do everything within my capabilities, give my 100% to achieve the team's desired results and be in the mix for as long as I can.