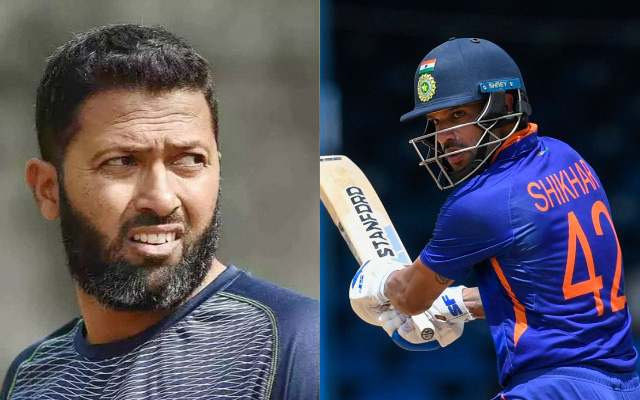 As the much-awaited ODI World Cup approaches, Indian cricket fans eagerly anticipate the selection of the Indian squad that is going to represent the country on home soil. Former Indian batter Wasim Jaffer recently shared his preferred 15-member team, surprising fans with his bold choices and strategic insights.
The veteran cricketer unveiled his preferred lineup for the upcoming ODI World Cup. Jaffer confidently named Rohit Sharma, Shubman Gill, and Shikhar Dhawan as his trio of openers, emphasising the significance of having a seasoned backup opener like Dhawan.
"My three openers will be Rohit Sharma, Shubman Gill, and Shikhar Dhawan. Even though Shikhar Dhawan might not be in the initial playing XI, I believe having him as the backup opener is crucial," Jaffer asserted during an engaging discussion on JioCinema.
While discussing the middle order, Jaffer kept Virat Kohli at the pivotal number three spot, followed by Shreyas Iyer, KL Rahul, and Hardik Pandya at numbers four, five, and six, respectively. An interesting choice surfaced when Jaffer opted for three spinners in his lineup, citing the expected home conditions during the World Cup.
"Ravindra Jadeja, Axar Patel, and Kuldeep Yadav will be my three spinners in the XI," he stated.
Jaffer's selection of spinners Jadeja, Patel, and Yadav also coincided with India's ongoing West Indies series squad, where they are set to showcase their skills.
Speaking on the importance of all-round performance, Jaffer supported the idea of utilising Hardik Pandya's bowling skills, even if not for the full quota of ten overs.
"Even if he doesn't bowl ten overs and bowls seven-eight overs, it's enough for me," Jaffer remarked, highlighting Pandya's ability to contribute with both bat and ball.
Moving on to the seamers, the former opener picked Jasprit Bumrah and Mohammed Siraj as his two specialist choices for the XI. Additionally, he emphasised the significance of a bowling-fit Hardik Pandya for India's success in the home conditions.
"In my XI, I will have Jasprit Bumrah and Mohammed Siraj/Mohammad Shami. I will play two seamers – Bumrah and Siraj. For me, it is very important that Hardik Pandya bowls because the World Cup is in India," Jaffer explained thoughtfully.
In the role of backup players, Jaffer picked Shardul Thakur and Sanju Samson, displaying his confidence in their abilities to add depth to the squad.
"If he bowls, I will definitely try to play three spinners, and I will definitely play both Axar and Jadeja because they are all-rounders. My third spinner will obviously be Kuldeep. My fourth seamer will be Shardul Thakur. Sanju Samson will be my backup keeper because I have already picked Shikhar as my third opener," Jaffer outlined.