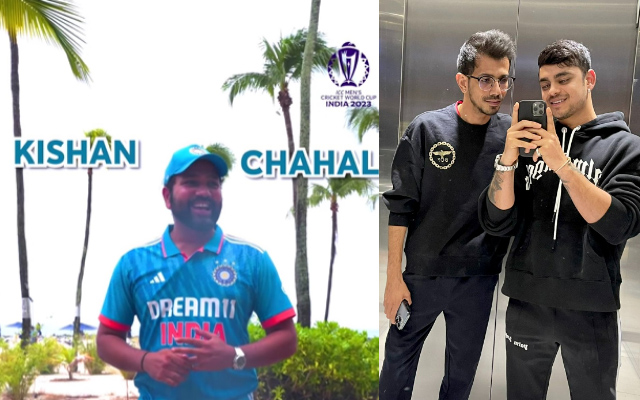 The World Cup fever is gradually spreading all over the world as the mega event is just a couple of months away. Ahead of the cricketing extravaganza, Indian skipper Rohit Sharma had a fun Q&A session where he was made to choose one out of the two available choices given to him in a 'this or that game.
The India cricketer was made to choose between left-arm seamers, his favourite shot, and his favourite win between World Cup 1983 and 2011. However, the question that got a hilarious response from the Indian captain was about whom would he rather choose to sit with on a bus between Ishan Kishan and Yuzvendra Chahal? Sharma replied that he wouldn't choose anyone as none of the two bring peace to him.
"None because before I go to the game, I want calm, I want peace, and none of these guys bring any of those, so none," said Rohit in a video posted by International Cricket Council (ICC) on Instagram.
When asked about which one would he choose to face between Saheen Afridi and Mitchell Starc, Sharma stated that both are quite threatening with the new ball. Hence, he would choose none.
"None. Both are quality, quite threatening with the new ball. Can swing the ball, quite fast.," he added
However, further speaking ahead in the video, the 36-year-old revealed that he prefers facing pacers more than spinners.
Watch the video here:
Rohit Sharma to carry billions of hopes in World Cup 2023
Notably, the ODI World Cup 2023 will take place in India beginning from October 05. Being a home World Cup, Sharma will be under tremendous pressure to carry the hopes of a billion people and lead his team to an ICC tile after ten years. India last won an ICC trophy back in 2013 when the MS Dhoni-led side triumphed over England to win the ICC Champions Trophy in England.
Come the World Cup, the Indian skipper will be expected to lead by example and plunder runs with his bat opening the innings for his team. Fans will hope that the opening batter manages to emulate his 2019 World Cup heroics where he finished as the highest run scorer of the tournament with 648 runs to his name.