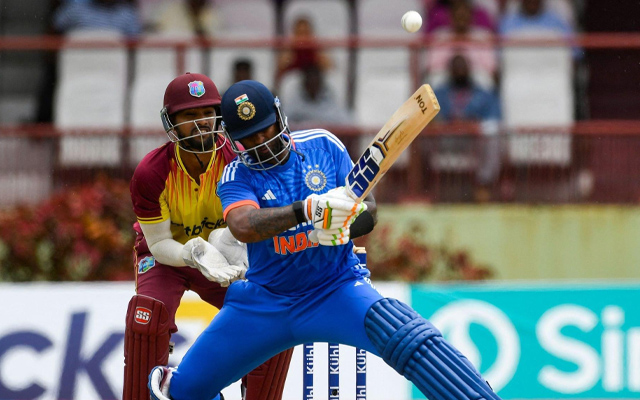 When it mattered the most, T20I stunner Suryakumar Yadav played a knock worth noting at Providence Stadium on August 8. Yadav, who couldn't pitch in as per his potential in the opening two games, made up for it with a match-winning 83 off 44 when the series was about to slip from India's hands. With his gritty knock, India got over the line by seven wickets and more than two overs to spare.
The stylish batter opened up after his innings and added how ODI is the most challenging format for him as one has to bat there in every possible way as per the need. Yadav also spoke that T20I has always been his forte because he has played the format way too much. The Indian batter who seems to struggle in the 50-over format has 511 runs to his name in 26 games at a dismal average of 24.33.
"T20I is a format that I have gotten used to it because I play it so much. but ODI on the other hand, we do not play a lot. I feel that it is the most challenging format, because you have to bat in every possible way. Say if I come into bat early with a few wickets down, I have to bat like Test cricket, then I have to score one run a ball, and then I have to adopt my T20 approach in the final overs," Suryakumar Yadav said in media interaction as quoted by India Today.
The middle-order batter was hopeful that he would be able to tackle his issues pretty well in the lead-up to World Cup 2023. He added that he is trying to adapt what team management has told him but T20 still remains the format where he can be at his usual best.
"What the team management has told me, I am trying to adapt that. I am trying to fulfill their faith in me. In T20s, it is much easier for me to express myself," he added.