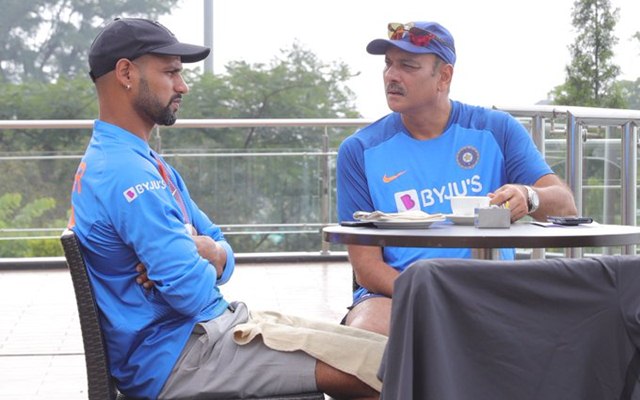 In a candid conversation exclusively on Star Sports 'Selection Day Special Show', former India coach Ravi Shastri provided insightful perspectives on the upcoming Asia Cup 2023 and the ICC Men's Cricket World Cup 2023. With a keen focus on the batting line-up, Shastri shared his thoughts on the positioning of young talent Ishan Kishan, as well as the impact of seasoned player Shikhar Dhawan on the squad.
Reflecting on the team's past experiences, particularly the 2019 World Cup campaign, Shastri emphasized the pivotal role left-handed batsmen play in the team's composition. As the cricketing world eagerly awaits the tournament, Shastri's insights shed light on the strategic considerations that shape India's approach to achieving success on the international stage.
Speaking exclusively on Star Sports Selection Day show, former India coach Ravi Shastri spoke about where Ishan Kishan will feature in the batting line-up for the Asia Cup 2023 and the impact Shikhar Dhawan had on the squad, and how the team missed in the 2019 World Cup campaign, he said
"At the top of the order, nowhere else. And the others have to be flexible. Between Rohit, Virat, and Shubhman Gill, that can be 2, 3, 4. And a very important point is, I was a coach at that time, and I keep saying that people don't give the credit that Shikhar Dhawan deserves. I mean, that guy was an amazing player. You mention the World Cup in 2019 where we lost that semifinal, when we had a brilliant World Cup, he was the missing man there. You know, that made such a big difference – a left-hander at the top of the order, as opposed to three right-handers with the ball swinging away, which allowed teams to get a grip on where to bowl and bowl consistently.
Shastri also highlighted the importance of having 2 quality left-handers in the top 7 of the Indian batting line-up for the upcoming tournaments, he said –
"There are two positions in the top seven where I feel two left-handers have to come in. This is where a selector's role comes in because they are watching, they know who is the guy who is hot. If Tilak Varma is hot, bring him in. If Jaiswal is hot, bring him in. But bring two in at the top, so if you are persistent with Ishan Kishan for the last 6-8 months and he's going to keep wickets, then he comes in, in any case. But getting two left-handers in that top seven, including Jaddu, there should be three in that top seven."