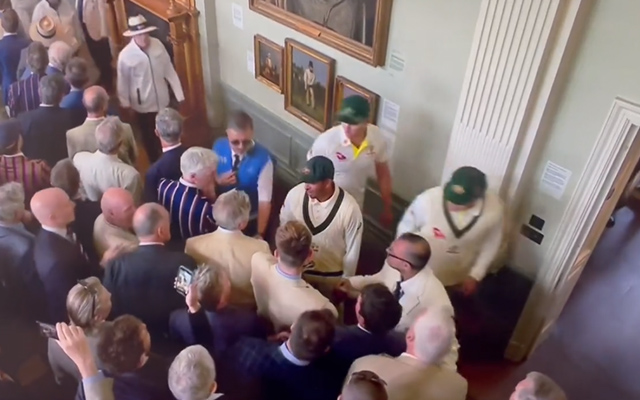 In the latest development to the stoush between the Marylebone Cricket Club (MCC) members and Australian players during the Lord's Ashes Test, the elite club has curbed their movement inside the pavilion. Moreover, they have also taken a few more measures to increase the space between the members and players using wider ropes. Additionally, the members now will not be allowed to move around the stairs while players come on and off the field.
Notably, Australian players Usman Khawaja and David Warner got into a heated moment while facing sanguinary language and boos from the elite members of the MCC. Meanwhile, in the ongoing Headingley Test, the crowd has been quite disciplined so far. It also comes to light that some members also clicked pictures with the players ahead of the start of play in the third Ashes Test at Leeds. However, the MCC chairman, Bruce Carnegie-Brown condemned this act via an email addressed to the concerned members on Thursday, July 6.
Besides, Carnegie-Brown came forward to share his views on the whole scuffle. In his note, the chairman stated that the MCC members have who were involved in abusing the Australian players have brought shame to the renowned club. He also pointed out that some members went on to post videos of the fiasco, which showed the uncomfortable extent of the abuses hurled at the visiting players.
"The video footage captured on Sunday (including some which was taken in clear breach of our regulations) is there for all to see," Carnegie-Brown wrote in his email as per the West Australian.
"The members shown on camera have brought shame on MCC. Their actions hinder our efforts to promote the positive things our club does to promote and celebrate the game," he stated.
The new set of rules will prevail in Women's Ashes T20 game
Speaking of the immediate investigation and actions so far in the matter, the MCC had earlier suspended three members for their rash behaviour. The chairman also iterated in his note that further stringent actions will be taken as the investigations continue. As far as new rules in place are concerned, they will come into force from Saturday night's T20I game of the Women's Ashes to be played between England and Australia.
The rules will come into place for Australia's women's T20 against England on Saturday night.
"The behavioural issue amongst members that day does not end there. Were more evidence to come to light, and additional witness statements gathered, further disciplinary sanctions would undoubtedly be warranted," Carnegie-Brown said.
Lastly, he requested the fans who were around the incident area to come forward as witnesses and help the club to zero in on the culprits who are still not under the radar and hopes the blame game should be stopped right away and take steps to avoid such brawls in the future ahead.