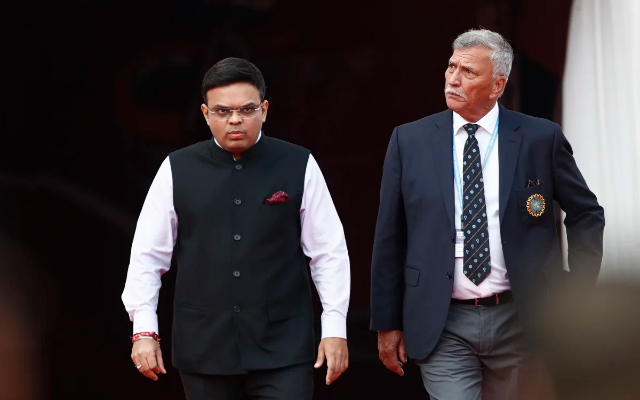 The Board of Control for Cricket in India (BCCI) has a lot on its agenda for the upcoming Apex Council Meeting on July 7. The board is keen to implement regulations on the participation of Indian players in overseas leagues. According to reports, BCCI is concerned about Indian players participating in foreign leagues and the mushrooming of such tournaments.
Most of these leagues are funded by Indian investors who're using their profits made from the IPL (Indian Premier League) and helping the growth of such T20 competitions. In a bid to control things, BCCI will set a few rules with regard to players participating in foreign T20 competitions such as the ILT20 in the UAE and Major League Cricket in the US.
According to a report in Cricbuzz, players will now have to obtain a No Objection Certificate (NOC) from the board to participate in overseas leagues, if they wish to be involved in any capacity (coaching or otherwise) in Indian cricket in the future. The BCCI might also think about bringing a cooling-off period rule to prevent players from joining foreign leagues right after their retirement.
Apart from this, the board is also looking to update the Impact Player rules in the Syed Mushtaq Ali Trophy (SMAT) and make them similar to that of the IPL. Notably, in SMAT, an Impact Player could only come into play before the 16th over, unlike the IPL. Furthermore, the BCCI wants teams to exchange their team sheets after the toss, similar to IPL. In the previous edition, teams were required to nominate 12 players before the toss.
BCCI likely to send Indian team first time for Asian Games
A discussion on India's participation in the upcoming Asian Games in Hangzhou, China, will also take place during the meeting. The BCCI is likely to send a full-strength women's team and a second-string men's team for the event scheduled to take place from September 27-October 8. If BCCI manages to send both teams then it will be the first time ever that Indian cricket teams will take part in the Asian Games.
Discussions on media and sponsorship rights, tour packages for the World Cup, stadium renovation, and the approval of player contracts for men and women, are also likely to take place.