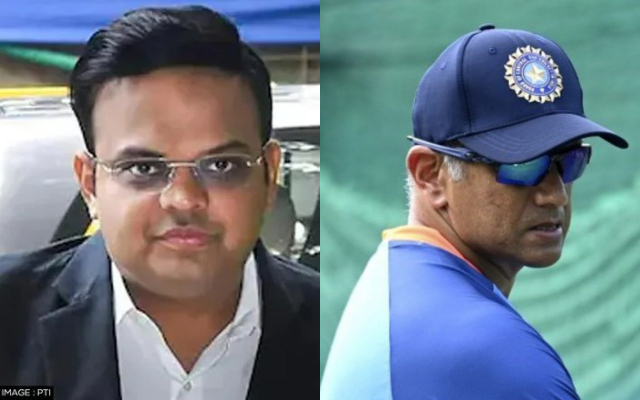 India's preparations for the upcoming Asia Cup and ODI World Cup 2023 seem all over the place following an underwhelming performance in the limited-overs series against West Indies. The batting line up apart from Virat Kohli, Rohit Sharma and Shubman Gill, looks completely unsettled which was evident in the first ODI where the team struggled to chase down a paltry 115 with Kohli and Rohit demoting themselves in the batting order.
Amid growing concerns regarding India's preparations for the marquee events, BCCI (Board of Control for Cricket in India) Secretary Jay Shah had a meeting with the Indian head coach Rahul Dravid in Miami. The meeting took place after the third T20I against West Indies on Tuesday, August 08 as India trailed by 1-2 in the five-match series.
According to a report in Cricbuzz, the meeting lasted for nearly two hours and was held at the hotel where Shah was staying. While the details of the matters of discussion between the duo remain unknown, speculations are that the roadmap to the World Cup 2023 was discussed. The BCCI secretary has expressed his strong desire to win the World Cup scheduled to take place in India from October 05.
Following India's 2-3 loss against West Indies in the recent T20I series, Dravid has faced a lot of criticism with some questioning his leadership and others suggesting the appointment of a new coach for T20Is.
Meanwhile, the Indian team will start the preparatory camp for the Asia Cup 2023 in Alur, Bengaluru from August 24. However, the selection committee is yet to receive information about when the squad for the continental cup will be finalized. The report further suggests that selection might take place after India's first T20I against Ireland on August 18 where Jasprit Bumrah will be making his return to international cricket after 11 months.
Selectors yet to receive an update on KL Rahul and Shreyas Iyer's fitness
Furthermore, the selectors haven't received any official communication regarding the fitness of KL Rahul and Shreyas Iyer who're undergoing rehabilitation at the National Cricket Academy (NCA) in Bengaluru. The duo was recently spotted participating in warm-up games as Rishabh Pant shared a video of Iyer and Rahul batting together. The NCA managers will likely give an update regarding both players to the BCCI ahead of the selection committee meeting.