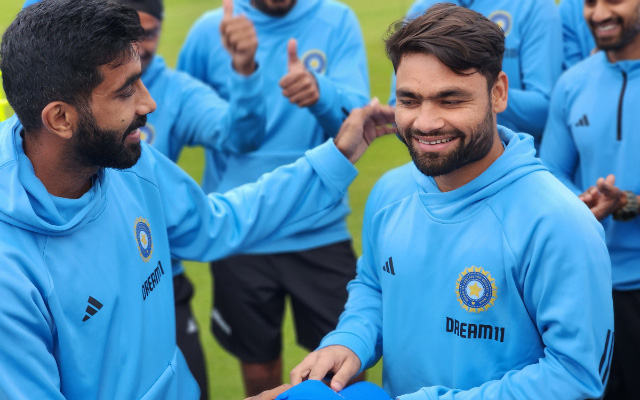 Kolkata Knight Riders (KKR) batting sensation Rinku Singh has finally earned his maiden India cap as he's all set to make his international debut during the first T20I against Ireland on Friday, August 18 at The Village, Dublin. Indian skipper Jasprit Bumrah, who's also making a comeback to the team after 11 months, informed about Rinku's debut at the toss as he chose to bowl first.
Rinku became a household name after his miraculous five sixes against Yash Dayal during match 13 of IPL 2023 vs Gujarat Titans at the Narendra Modi Stadium in Ahmedabad. With 28 needed to win off the last five balls, the southpaw held his composure and unleashed his beast mode on Dayal to etch his name in the history books.
Going ahead in the season, Rinku pulled off more thrilling finishes for KKR and stamped his reputation as a charismatic finisher. He finished the season as the highest run scorer for his side with 474 runs to his name from 14 innings at an average of 59.25 and a strike rate of 149.52 with four fifties.
Courtesy of his incredible season, the Aligarh-born cricketer earned his maiden India call-up for the Asian Games and later for the Ireland tour. Apart from him, seamer Prasidh Krishna is also making his T20I debut after being out of action for a year due to a stress fracture.
Prasidh Krishna has been out of action since August 2022
The 27-year-old last played for India during the ODI series against Zimbabwe in 2022 and missed out the entire cricketing calendar even the IPL 2023 due to his unfortunate injury. Krishna, who's played 72 T20 games so far, finished as the second-highest wicket-taker for Rajasthan Royals in the 2022 season.
The Bengaluru-born seamer picked 19 wickets from 17 innings at an average of 29 and an economy of 8.28. As India walk out to the middle, all eyes will be on Krishna and Jasprit Bumrah as fans are eager to see them back in India colours.
Meanwhile, X was buzzing with reactions on Rinku's international debut.
Here are some of the posts:
Prasidh Krishna and Rinku Singh are making their T20I debuts for India 👏#IREvIND | 📸 @BCCI pic.twitter.com/clVogGbnJe

— ICC (@ICC) August 18, 2023
Moments like these! ☺️

All set for their debuts in international cricket and T20I cricket respectively 👍 👍

Congratulations Rinku Singh and Prasidh Krishna as they receive their caps from captain Jasprit Bumrah 👏 👏#TeamIndia | #IREvIND pic.twitter.com/JjZIoo8B8H

— BCCI (@BCCI) August 18, 2023
Rinku Singh, #T20I Cap Number 107. Reporting for national duty. 🫡

📸: @BCCI | #RinkuSingh #IREvIND #AmiKKR #TeamIndia pic.twitter.com/McHFbaSvUp

— KolkataKnightRiders (@KKRiders) August 18, 2023
All the best, Rinku Singh and Prasidh Krishna!

Go well on your debut, International and T20I.#IREvIND pic.twitter.com/gGexCXpGsJ

— Nikhil 🏏 (@CricCrazyNIKS) August 18, 2023
Rinku Singh and Prasidh Krishna are making their T20I debuts for #TeamIndia 🇮🇳#IREvIND #INDvsIRE pic.twitter.com/LCGwyqkXYm

— Doordarshan Sports (@ddsportschannel) August 18, 2023
Rinku Singh Era begins from today 🙌❤️ pic.twitter.com/uyeIN9ri6m

— Rodony 𓃬 (@Rodony_) August 18, 2023
𝙔𝙤𝙪𝙧 𝙬𝙞𝙣𝙜𝙨 𝙖𝙡𝙧𝙚𝙖𝙙𝙮 𝙚𝙭𝙞𝙨𝙩, 𝙖𝙡𝙡 𝙮𝙤𝙪 𝙝𝙖𝙫𝙚 𝙩𝙤 𝙙𝙤 𝙞𝙨 𝙛𝙡𝙮.

You go Rinku Singh and all the best to ex Knight Prasidh Krishna. pic.twitter.com/n9BdEVPjDD

— 𝗔𝗱𝗶𝘁𝘆𝗮 (@StarkAditya_) August 18, 2023
No way Kohli and Rinku Singh made their international debut on the same date

— Titu (@TituTweets_) August 18, 2023
Addidas is looking to double the jersey price due to the expected rise in demand once Rinku Singh wears it.

— Silly Point (@FarziCricketer) August 18, 2023
Sher of Aligarh & KKR ka bachcha will play today.💪👏

Keep shining @rinkusingh235 and make us proud 🫶💜 #AmiKKR

Rinku Singh is totally ours 💜♾️ pic.twitter.com/xC9BxWyAiU

— 💜𝑫𝒊𝒆 𝒉𝒂𝒓𝒅 𝙆𝙣𝙞𝙜𝙝𝙩 𝙍𝙞𝙙𝙚𝙧💜 (@AKnightRiderrr) August 18, 2023