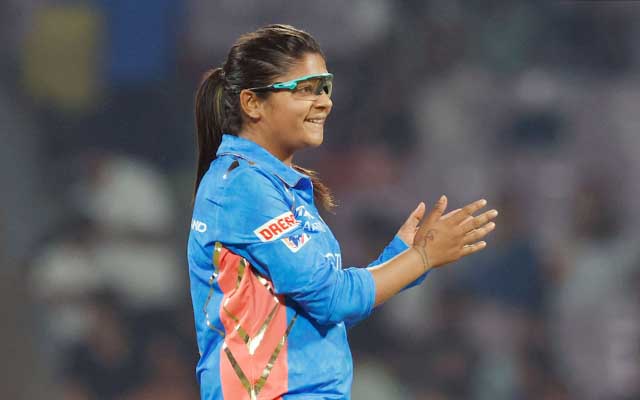 The Board of Control of Cricket in India (BCCI), recently, announced the teams for the upcoming 19th Asian Games which will be taking place between September and October later this year. While some players made it to the list who moved up the ranks to play for the national teams of both the men and the women. Speaking of the India Women's team announced for the coveted event, some players were able to see their dreams turning into reality.
But one player who impressed everyone during the inaugural Women's Premier League (WPL) had missed out on Bangladesh's tour. Saika Ishaque bowled beautifully in the big league has finally received a piece of good news. The upcoming Asian Games may turn out to be a blessing in disguise for Ishaque as she has been named as a standby player in the India Women's team, who will be representing the nation in China.
In the same vein, Saika's coach, Shibsagar Singh, who supported the willy spinner in her initial days, shared his delight over the good news. Reflecting on the same, Shibsagar believes that Saika has surely marched closer to donning the India jersey. Moreover, he revealed that the Bengal spinner has been working on improving her fitness and developing her bowling skills further.
"For sure, she has moved a step ahead in her career after getting selected as a standby player for the Asian Games but she is working really hard to get into the side. She is working a lot on her fitness as well as her bowling drills," Singh told News18 CricketNext.
"As I said, she has been working on both her fitness and bowling. The fitness level has surely gone up. Talking specifically about the drills, that include running, sprint running and a lot of other things are there. She is working really hard," Shibsagar continued.
Saika Ishaque became a vital cog of MI Women in WPL 2023-
Meanwhile, speaking of the left-arm spinner's WPL stint, Saika Ishaque took 15 wickets in 10 games for the Mumbai Indians Women (MI-W) under Harmanpreet Kaur's captaincy. As a result, this boosted the confidence of the spinner, who firmly believes that she is destined to play at the international level and will represent India's Women's team soon. Hence, she keeps working hard each day as per her coach.
"Moreover, she has a lot of hunger to succeed, play at the highest level and wants to work really hard for that. Even when we have our conversations, I tell her that this is just the beginning, you have to go a long way and work on your skills every single day," he concluded on Saika Ishaque's selection.
Notably, BCCI has named a 20-member squad for the women's cricket team. The event will take place in T-20 format which will be held in Hangzhou in China.