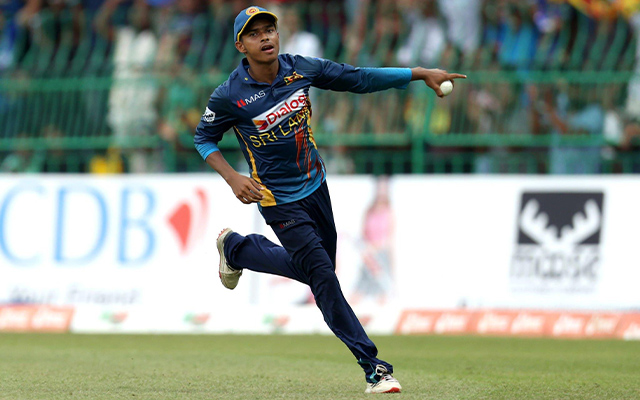 In a stunning display of spin bowling prowess, young Sri Lankan sensation Dunith Wellalage left the cricketing world in awe as he bamboozled India's top-order batsmen during a crucial Asia Cup encounter.
The 20-year-old left-arm spinner orchestrated a masterful performance, securing his maiden five-wicket haul at the senior international level with remarkable figures of 5/40 against the formidable Indian lineup. Lasith Malinga, a legendary figure in Sri Lankan cricket, was quick to shower praise on the budding talent, recognizing Wellalage's exceptional skills and composure under pressure.
With just 13 ODIs under his belt, Wellalage is already emerging as a key figure in Sri Lanka's upcoming campaign at the ICC Men's Cricket World Cup, set to kick off in India on October 5. His journey to international prominence began with a stellar showing at the ICC U19 Men's Cricket World Cup, where he concluded as the tournament's leading wicket-taker, scalping an impressive 17 victims at an astonishing average of 13.58.
Malinga, known for his fiery spells with the ball, took to social media immediately after Sri Lanka's clash to laud Wellalage's exceptional performance. The Sri Lankan cricketing icon voiced his belief in the young spinner's bright future, proclaiming,
"It's fair to say that SL played with 12 players today. That's how good Dunith was, He's got a brilliant head on his young shoulders to go with his all-round skill set. I believe he's on his way to becoming the most important player for SL in ODIs for the next decade," Malinga wrote.
Wellalage finds inspiration in Babar Azam's brilliance, vows to keep striving for victory
Following his scintillating outing against India, Wellalage exhibited humility and gratitude as he acknowledged the inspiration he draws from Pakistan's batting maestro, Babar Azam. Despite Sri Lanka's unfortunate loss in the match, Wellalage took to social media to express his pride in his on-field performance, stating,
"Though the result didn't go our way, I'm proud of my performance on the field. Learning from the best, Babar Azam, whose journey and dedication continue to motivate me. We'll keep pushing forward and striving for victory."