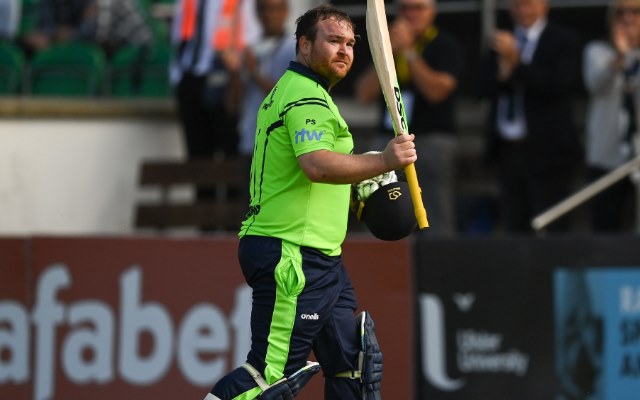 Ireland managed to qualify for the 2024 T20 World Cup after a decent campaign in the European Region Qualifiers in July. They will now be looking to continue their resurgence in the three-match T20I series against a young Indian side that will be led by a fit-again Jasprit Bumrah. The first T20I will be played on Friday, August 18 at the Malahide Cricket Club Ground in Dublin.
Paul Stirling, who recently replaced Andrew Balbirnie as the T20I skipper, noted that the Indian team plays the game at high standards throughout the year. However, he felt that the tag of underdogs might work in favour of Ireland and help his team play freely without much pressure.
"It's the start of our adventure to the World Cup. We know the players and the standard of cricket that we are going to come up against. The standard of cricket they play all year in terms of the IPL for such a long time and in the national team is obviously as good as it gets," Stirling told BBC Sport NI.
"But at the same time, I think that the pressure when you're in the underdog scenario like we are for this week can release you to play your best cricket."
For us the build-up to the 2024 T20 World Cup begins now: Paul Stirling
Paul Stirling admitted that Ireland were the favourites in the European Region Qualifiers last month but the scenario is going to change against India. The aggressive right-handed batter mentioned that there isn't much time ahead of next year's T20 World Cup which will be jointly hosted by the West Indies and the USA and it is important for his team to make good use of the matches they get in the lead up to the showpiece event.
"For us, the build-up begins now, it's a really important period, it'll be thick and fast. June won't be that terribly far away. We're going to finish our summer here and be into a number of tours no doubt coming up and all of a sudden we'll be in the United States and the West Indies. We'll be looking to be in the best place possible come June, so again our plans and our focus will turn towards that.
"It's very different [against India] to what we came up against two weeks ago in the World Cup qualifiers in Scotland. Very much a lot of pressure in every game and certainly favourites going into most of them, but that's flipped coming up this week and we're just looking forward to seeing what we can deliver with that freedom," he added.
Last year, India visited Ireland to play in a two-match T20I series. Hardik Pandya and Co. won both games but Ireland put on a good fight, especially in the second game, in which they lost by just four runs while chasing 226.