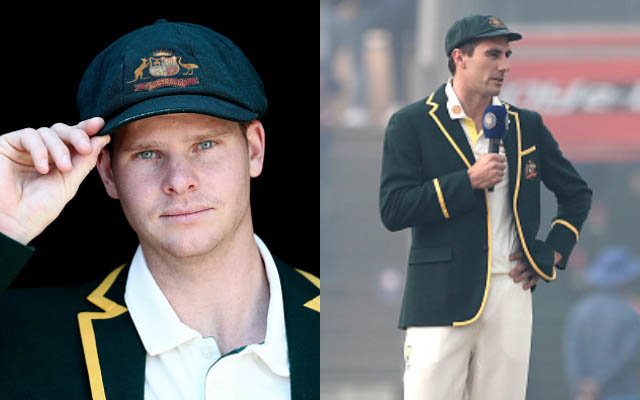 Veteran Australian batter Steve Smith is on the brink of reaching a major milestone in his playing career. The 34-year-old is all set to play his 100th Test match for Australia when they take on England in the third Ashes Test at Headingley from Thursday, July 6.
Whether that's leaving the ball in an animated manner, or putting all his weight onto a straight drive, the 34-year-old's unorthodox way of batting has even the best of bowlers beat. Ahead of his 100th Test for Australia, several of his teammates took part in an interview by Cricket Australia where they talked about what they thought was Smith's trademark shot.
Australian pacer Josh Hazlewood revealed that he thinks Smith's tennis racquet shot down the line is one of his trademark shots. He also named his clip-off shot off the pads as one of the best shots in the 34-year-old's arsenal.
— Himanshu Gupta (@Himanshu09_twt) July 5, 2023
Skipper Pat Cummins was of the opinion that Smith stepping across and whipping a delivery to the leg side was one of his great shots. Ace batter Marnus Labuschagne stated that Smith's straight/on drive, where he throws all of his weight on the bat, was one of his best shots.
In a hilarious opinion, opener Usman Khawaja said that one of Steve Smith's 'stupid leaves' and how he waits for a ball and punches it off the back foot is one of his trademark shots. Over the years, Smith has showcased a plethora of shots that he can play.
Steve Smith the modern great with a sublime career for Australia
Over the years, Smith has well established himself as one of the best batters of this generation. In the 99 Tests that he has played, Smith has amassed 9113 runs to his name, hitting 32 tons and 37 half-centuries. Ever since his debut in 2010, Smith has had a unique way of going about his batting.
The 34-year-old will be keen on making his 100th Test match a memorable one when he takes the field at Headingley against England in the third Test.