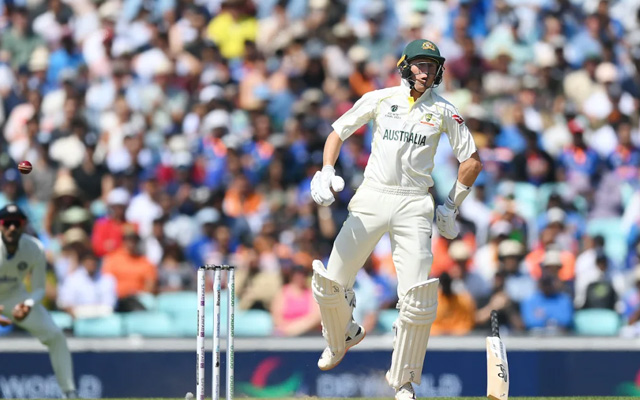 After much delay, Day 4 of the fourth Test in Ashes 2023 finally got underway on Saturday, July 22, at Old Trafford, Manchester. Australia resumed their innings on 113/4 after 41 overs with Marnus Labuschagne (44*) and Mitchell Marsh (1*) at the crease. After the first session got completely washed out, Labuschagne and Marsh started the day cautiously.
Labuschagne completed his fifty off 99 balls, scoring six boundaries in his innings. The 29-year-old was looking to spend some time at the crease and get used to the wet conditions on the ground. At the other end, Marsh also began the day in a circumspect manner and watched the ball carefully.
The duo put on a fifty-run stand off with 111 balls to calm the nerves in the dressing room. After a quiet period early on, Labuschagne got busy and began rotating the strike on a regular basis while Marsh was still finding his feet at the other end. Their partnership continued to grow, which made the England captain Ben Stokes come up with new strategies to dismiss them having limited time on his hand.
With the atmosphere getting darker, on-field umpires Joel Wilson and Nitin Menon informed Stokes that fast bowlers could not bowl as it was getting difficult to sight the ball. As a result, Stokes brought in Moeen Ali and Joe Root to bowl in tandem. Seeing the spinners in action, Labuschagne quickly turned on his attacking mode and raced to his 11th Test hundred off 161 balls.
Labuschagne and Marsh also brought up their 100-run stand for the fifth wicket and continued to frustrate England. Just when everything was going Australia's way, Joe Root made Labuschagne edge straight to Jonny Bairstow to give his side the much-needed breakthrough. Australia went into tea on 214/5 with Marsh (31*) and Cameron Green (3*) at the crease.
Rain played spoilsport in third session as well
Following that, no more play was possible as the heavens once again opened, and rain came pouring down to spoil England's party. With gloomy weather expected for Day 5 as well, England bowlers will have their task cut out on bowling out Australia in whatever little play the weather permits on Day 5.
Meanwhile, Twitter was abuzz with reactions to the play from Day 4.
Here are some of the Tweets:
It won't be easy. Not when you're playing the weather and a very good Australian team. But there's still a chance. #Ashes2023

— Pop Cult magazine (@popcultmag) July 22, 2023
This century might have saved @CricketAus this match…#Ashes2023 pic.twitter.com/FK5zB92ZUI

— Shahbaj Khan (@iamshahbajkhan) July 22, 2023
Day 4 at Old Trafford ends with rain and Marnus Labuschagne frustrating England, as only 30 overs were possible. Australia is 214/5, trailing by 61 runs against England. ☔️ #ENGvAUS #Ashes2023 pic.twitter.com/dxLLs4e7oN

— Areeb Cricket World digital media (@World_OfCricket) July 22, 2023
This #Ashes2023 #ashes game is the EXACT reason they need reserve days in cricket… a draw here ruins a FANTASTIC culmination of a series for the fans… shame really #Ashes23 #AshesAreAlive

— Tom (@HedgeFundFun) July 22, 2023
England's fans right now after assessing tomorrow weather forecast for Old Trafford! #Ashes2023 pic.twitter.com/9HKIpbiJA1

— The Hood (@AsiaThehood) July 22, 2023
Australia will retain the ashes with 2 sessions of rain and 1 session of batting
😊 #Ashes2023

— Imran Raja🍁 (@iMImranAjK) July 22, 2023
Rain has literally decided to pour on heated😡🔥 England and turn them to Ashes!! #Ashes #Ashes2023 #ENGvsAUS

— Rukshi Khan (@Rukshi_khan_) July 22, 2023
Again a blockbuster sunday this ashes is heating up!🔥🔥 #Ashes2023 #ENGvsAUS

— Sai (@7907Saij) July 22, 2023
Another gripping day of #Ashes2023 action! The rain interruptions have added drama, but it's Labuschagne's who stole the spotlight! 💯🔥 well played @marnus3cricket👏👏. This century might be the game-saver for Australia! 🇦🇺 https://t.co/3v3JbKZVGn

— Tara Ballav Adhikari (@NepalChirp) July 22, 2023
Argh looks like 2 hours to save #Ashes2023 from tomorrow's weather forecast for Old Trafford 😭 pic.twitter.com/IFUtmY5Ju7

— Wivenhoe Funny Farm (@WivFunnyFarm) July 22, 2023
Will we go to The Oval with the Ashes locked at 2-2? #Ashes #Ashes2023 #AshesAreAlive #Cricket

— 🇮🇳 Shivanand Pandit (@goapandit) July 22, 2023
Test cricket should adapt and be more flexible, especially in England due to the changeable weather. I cannot believe they all trotted off for tea during the only dry period of the day, having played for just over two hours. Farcical situation. Punters deserve better. #Ashes2023

— Mr Meaner (@Rob02830134Rob) July 22, 2023