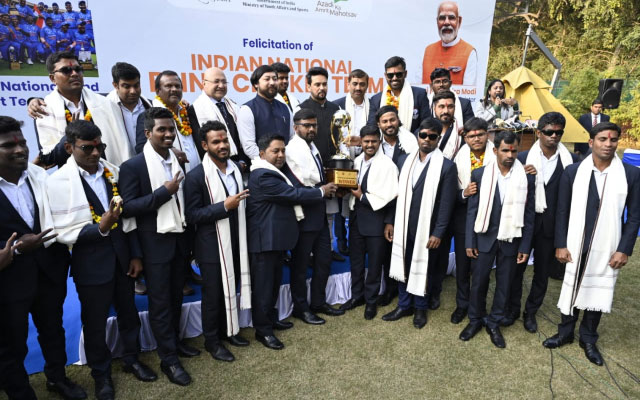 The International Blind Sports Federation (IBSA) World Games 2023 are scheduled to be held from August 18 to 27 in Birmingham. The event will witness a range of sports competitions, including Archery, Chess, Cricket, Blind Football, Partially Sighted Football, Women's Football, Goalball (Male/Female), Judo, Powerlifting, Showdown, Ten Pin Bowling, and Tennis.
Ajay Kumar Reddy, the esteemed captain of the Indian Blind Cricket Team, expressed his concerns about their financial situation despite their impressive track record.
"We are struggling with funding, we will strive for gold in the World Games and make India proud. However, to excel in sports, we need substantial financial support. Despite our numerous World Cup victories, we are facing funding challenges, hindering our ability to enhance facilities. I am immensely proud of my team; they have been performing exceptionally well," said Ajay Kumar Reddy as quoted by NDTV.
He further added, "While the Indian Blind Cricket Team has achieved remarkable success over the past decade, we continue to grapple with financial support. Presently, we have a contract with IndusInd Bank, but we remain uncertain about what will transpire after the contract's conclusion."
Reddy praised the team's camaraderie and said that team has maintained an outstanding spirit for the past 10 years. The senior members wholeheartedly support the new additions, fostering a positive and encouraging environment within the team.
Regarding financial backing, he acknowledged the initiative taken by the BCCI, stating, "We were fortunate when the BCCI formed a DCA committee, providing us with essential financial support."
Support for the Indian Blind Cricket Teams poured in, as former Indian cricketer Aakash Chopra expressed his solidarity with both the men's and women's squads ahead of the IBSA World Games 2023 in Birmingham. Chopra called on everyone to rally behind the teams as they embark on this momentous journey to bring glory to the nation. The squads for the World Games 2023 were meticulously selected during the selection trials held in Bengaluru in May this year.