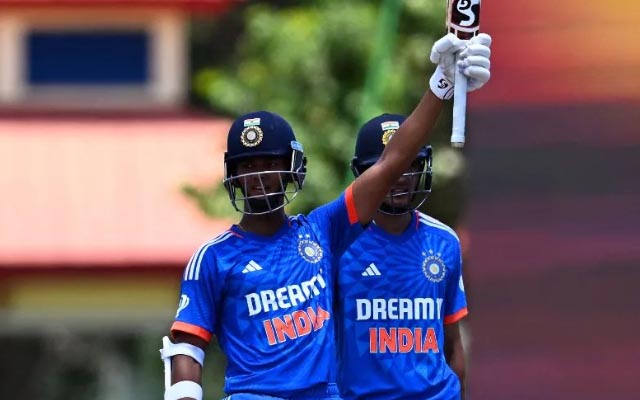 In a stunning display of dominance, India swept aside West Indies' hopes with an exceptional performance, leaving fans astounded in the fourth T20I of the series. The game unfolded as India made a mockery of West Indies' total of 178, proving their mettle with exceptional batting performance.
From the very first over, Jaiswal set the tone, launching the chase with a boundary off the first ball. With 10 runs scored in the opening over, the stage was set for an entertaining chase. Yashasvi Jaiswal's prowess shone through as he struck three boundaries off Jason Holder's over and followed up with back-to-back hits off Romario Shepherd.
Shubman Gill's cautious start was quickly overshadowed by a burst of many quick boundaries. The powerplay was a spectacle of Indian batters' domination, yielding 66 runs without the loss of any wicket. Boundaries were being hit throughout, with Jaiswal contributing 7 fours and Gill hitting 3 sixes and a four. The duo's partnership was a sight to behold, reaching a century in the tenth over.
Gill, breaking free from recent single-digit scores, secured his half-century, a testament to his adaptability. Simultaneously, Jaiswal achieved his maiden T20I fifty, cementing his place as a rising star. West Indies, left floundering in the wake of the onslaught, struggled to find a counterstrategy.
Although Gill eventually departed after a 165-run partnership, the damage was already done. West Indies' efforts to stop the Indian rampage proved too little, too late. With 18 balls to spare, India clinched victory and levelled the series with 2-2, leaving no doubt about their supremacy.
Earlier in the match, Hetmyer's commendable performance and Shai Hope's resilient return showcased West Indies' spirit. However, their total of 178 proved insufficient in the end for the Indian batters. Both teams will be looking to win the series as the the final T20 match of the series is scheduled to be played on the August 13, in less that 24 hours of the conclusion of the fourth game.
Let us have a look at the best memes from the third T20I:
They're calling them the next Sachin and ganguly….Let's hope for the best🤞

Shubman gill 🤝 Yashaswi Jaiswal#INDvsWI #BCCI #westindies #ShubmanGill #jaiswal pic.twitter.com/B0U1NE0Lhz

— Shivam (@ShivSkywalker) August 12, 2023
#INDvsWI #RohitSharma #ShubmanGill #Jaiswal pic.twitter.com/fSULbvN9og

— SÃGÅR (@SAGARSIDHARTH42) August 12, 2023
West Indies bowlers against Shubman Gill and Yashasvi Jaiswal pic.twitter.com/p1LbaNFD5C

— Desi Bhayo (@desi_bhayo88) August 12, 2023
Yashasvi jaiswal and shubman gill in today's match #INDvsWI #ShubmanGill pic.twitter.com/xOfrkSLDUe

— akash (@SolankiAka60919) August 12, 2023
As soon as yashasvi jaiswal hitting a runs…
Shubman gill –#INDvsWI #yashasvijaiswal #YashasviJaiswal #ShubmanGill pic.twitter.com/fZkbQ6Jv8O

— Ahmad khan (@ark_network9) August 12, 2023
Ya kis player ka bat ha ShubmanGill ya jaiswal ka #ShubmanGill #jaiswal #INDvsWI pic.twitter.com/aJJrxyK1Ak

— ziaurrehamanbaloch (@worldsports879) August 12, 2023
Ichipadesaru mana vallu 🔥🔥#ShubmanGill #jaiswal #yashasvijaiswal #INDvsWI pic.twitter.com/onAVqfbkka

— ndhi_ni_lolli (@ndhi_ni_lolli) August 12, 2023
Princess Shubman Gill played an outstanding knock of 77(47) against the unqualified West Indies Indies .

Recipe of this masterclass :•

✓ Flat track
✓ unqualified West indies
✓ Finished bowlers #INDvsWI #ShubmanGill #ODIWorldCup2023 #AsiaCup2023 pic.twitter.com/Ms2KlUNTKV

— Farooq Khan🎗️ (@Farooq_49) August 12, 2023
Yashasvi Jaiswal 🫱🏻‍🫲🏼 Shubman Gill pic.twitter.com/3RL6wBWmgK

— Dennis🕸 (@DenissForReal) August 12, 2023
Shubman Gill 😂🔥 pic.twitter.com/YhhuYEJ5Q5

— रचित M 💛 (@rachit1m) August 12, 2023
As soon as yashasvi jaiswal hitting a runs…
Shubman gill –#INDvsWI #yashasvijaiswal pic.twitter.com/YicOPgM9UW

— dr__strange__ (@dr__strange__) August 12, 2023
Shubman Gill 💫 pic.twitter.com/KDuubZ4Gig

— Komedi Wali (@vegetarianmee) August 12, 2023