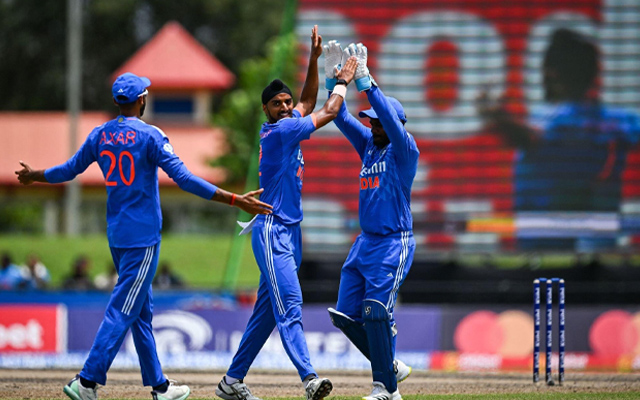 The fifth and final T20I between the West Indies and India ended with the Rovman Powell-led Windies clinching the series 3-2 after a brilliant performance in the final game of the series. Batting first, team India posted 165 runs on the board after a sensational knock by Suryakumar Yadav, who scored 61 runs to stabilise the innings for his side.
Romario Shepherd was undoubtedly the star of the first innings, taking four wickets and conceding 31 runs in four overs. His brilliant spell went a long way in limiting the Indian team to a reasonable total. Aiming to chase down a target of 166 runs, the Windies showcased an excellent batting display.
Brandon King and Nicholas Pooran's brilliance during the run chase helped the Windies win the game. Both batters played brilliant knocks in rain-hindered run chase to finish the game for their side. Scoring 47 and 85* runs, Pooran and King were the stars of the clash.
Talking Points from the 5th T20I between West Indies and India:
Suryakumar Yadav's knock
Star batter Suryakumar Yadav lit the stage on fire in the first innings of the fifth T20I between the West Indies and India. After openers Yashasvi Jaiswal and Shubman Gill failed to make an impact, Suryakumar Yadav scored a brilliant 61 runs in 45 deliveries to bring the innings back on track. His knock helped India post 165 runs on the board.
Romario Shepherd's spell
West Indies' pacer Romario Shepherd was the best bowler in the fifth and final T20I of the series. In the first innings, Shepherd wreaked havoc on the Indian batting attack, taking four wickets and conceding 31 runs in four overs. His spell was crucial for the West Indies in limiting the Indian team.
Pooran-King show
The win would be largely owed to the brilliant partnership between Nicholas Pooran and Brandon King, whose knocks in the top-order were crucial for the West Indies in winning the game. Pooran scored 47 runs, whereas King amassed 85* runs to win the game for the Windies.
Losing skipper Hardik Pandya said:
If you see, we lost that period post ten overs. Since when I came, I wasn't able to capitalise and I took my time and could not finish. [On his decision at the toss] I believe that as a group we have to challenge ourselves. All these games are the games where we have to learn. We have spoken as a group that whenever we can take the hard way we will. In hindsight, one series here or there doesn't matter but the commitment to the goal is important. [On the T20 World Cup next year] It's a long way. We have the ODI WC coming up. And sometimes losing is good. You get to learn a lot. And special mention for all the boys. They showed great character. Winning and losing is a part of the process and we are going to make sure we learn from that. [On his bowling changes] It is what I feel at the moment, I don't plan much. If I see a situation, whatever my gut says I follow. [On captaining young players] They've got heart. That is something that's very important in international cricket. Every youngster coming through has belief. That's something I see very often now. Kudos to them, they came out and took responsibility. I can't be happier as a captain

Winning skipper Rovman Powell said:
[On winning the series] It's difficult to put words to. Adjectives are inadequate for our feelings. It's a big series. It's a very big series for us to beat India at home with everything going on. Last night after we got defeated badly we sat down and talked. We are not just playing to put smiles on our faces but for the people . A lot of credit to the coaching staff and also the chairman. Yesterday we could have easily panicked but they sat me down and we talked about where we could go. I am big on individual performances and when individuals do well it helps the teams. Pooran is a big performer. We asked him to stand up for three out of fives games. Credit has to be given to the bowling unit as well for trying to control such a powerful Indian team. A lot of credit to the fans. When chips are down they rallied around us and supported us. Not just physically but social media as well. Shows how cricket is a driving force and if we can keep using it as an added motivation to put smiles on Caribbean faces.

Player of the match Romario Shepherd said:
It makes me feel happy because we ended up on the winning side. So thanks to Pooran and King for playing so well. Right now from the ODIs to now, I've been hitting my areas and bowling well from the start to the end. [On bowling plans] Especially to Sanju, the plan was to hit the wicket and to Surya to get him to hit straight down the ground. [On the series win] It meant a lot to us especially because we've been going through some hard times in the past couple of months so to win against a team like India it means a lot for us and the fans