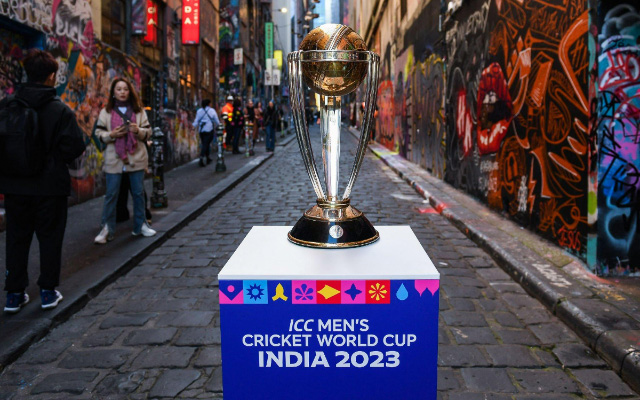 Ahead of the upcoming World Cup, which is slated to begin on October 5, the Board of Control for Cricket in India (BCCI) has formed a sub-committee for venue inspection and to grant infrastructure subsidies. The new development has already been conveyed to the state authorities and the work regarding the entire process is expected to begin very soon.
Notably, BCCI didn't hire new personnel as the five office bearers – President Roger Binny, Secretary Jay Shah, Treasurer Ashish Sehlar, vice-president Rajeev Shukla, and joint Secretary Devajit Saikia will carry out the entire operation of venue inspection. On the other hand, IPL chairman Arun Singh Dhumal, former treasurer Anirudh Chaudhry, former Apex Council member Prabhtej Bhatia, and Karnataka State Cricket Association Secretary A Shankar along with the five office bearers will be granting infrastructure subsidies.
Meanwhile, the office bearers have divided the places they will be visiting for inspection. 1983 World Cup winner and the current president Roger Binny will be overseeing the development of Ahmedabad and Chennai. Notably, Narendra Modi Stadium in Ahmedabad will be hosting multiple key matches, which include the likes of the tournament opener, the India versus Pakistan clash, and the all-important final. Thus, it is considered to be the most important venue of the World Cup.
On the other hand, Mumbai and Kolkata will be hosting the semi-finals of the competition, and joint secretary Devajit Saikia has been made responsible for these two venues and Trivandrum, which will host a few warm-up games.
Meanwhile, secretary Jay Shah will be taking care of Delhi and Dharamshala, Vice-president Rajeev Shukla will handle the southern cities of Hyderabad and Bengaluru and treasurer Ashish Sehlar will oversee Pune, Lucknow, and Guwahati, out of which latter will only host warm-up matches.
"We anticipate that these sub-committees will work diligently towards achieving our shared goals and objectives. Together, we can make the ICC Cricket World Cup 2023 a resounding success and further elevate the standards of infrastructure and development in Indian cricket," the BCCI secretary informed the state authorities via mail as quoted by Cricbuzz.