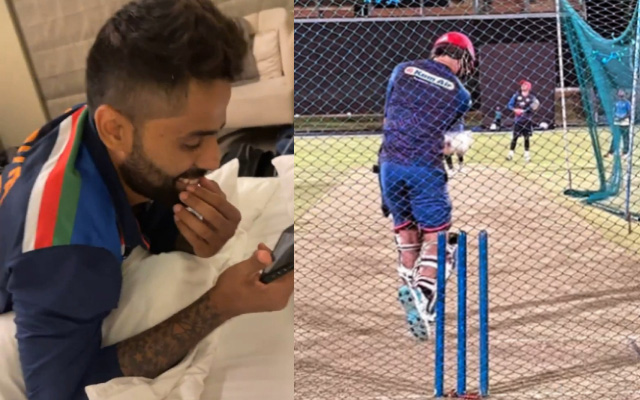 Several players who have been on a short break from cricket action on the field in a bid to recharge their bodies have finally started training for important tournaments coming ahead in the form of Asia Cup 2023 and ODI World Cup 2023, respectively. In the same vein, the star Afghanistan all-rounder, Rashid Khan, started his training in the nets in full swing on Sunday, August 20. Notably, the Afghan side are to clash with Pakistan in the upcoming three-match ODI series in Sri Lanka.
Hence, Rashid Khan posted a video of his latest training where he can be seen batting. Interestingly enough, during his net session, he played some unorthodox strokes as he showcased his batting prowess by playing a 'No Look' shot. The Afghan batter himself posted a video on Instagram of his training session.
"Spending my Sunday in my fav spot," Khan wrote on his Instagram handle.
On spotting his post, Team India's vice-captain of the shortest format, Suryakumar Yadav, who is known for his electrifying range of unusual shots, came up with a cheeky reply for the spin wizard's special shot. Yadav said that he will need to spend time with Rashid Khan to learn this unique shot.
"Ye no look wale shot ki training leni padegi," Suryakumar replied to Khan.
Taking note of Suryakumar's reply, the Afghan all-rounder Rashid Khan teased back the Indian 'Mr 360' by saying that the latter himself is the master of a special unorthodox stroke named, Supla shot, and still asks the former to train him for the 'No Look' shot.
Suryakumar continued his good form in T20Is but failed to find his mojo in ODIs
Meanwhile, speaking of Suryakumar Yadav's on-the-field action, the batter recently played against the West Indies in their backyard in a five-match T20I series. During the tour, the 32-year-old managed to accumulate 166 runs from five appearances with two half-centuries (83 and 61) to his name. However, Team India failed to get over the line by losing the series by 3-2 margin.
Besides, in the 50-over format, Suryakumar continued his dismal run as he could only collect 78 runs from the three ODIs he played for India. Albeit, speaking of the result, this time the visitors were able to successfully clinch the series by a margin of 2-1.