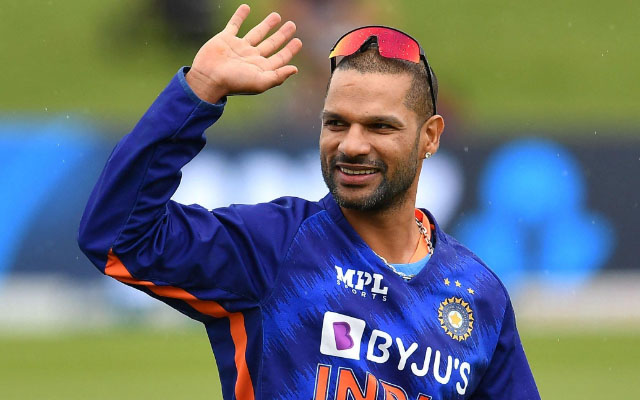 The game of cricket has evolved massively with the introduction of T20 matches and especially the Indian Premier League, which has given the local cricketers a platform to learn a lot of things on how to get better on a daily basis. Every year, there are players who come out of nowhere and shock the cricketing world. The 2023 edition of the tournament saw two such heroes in the form of Yashasvi Jaiswal and Rinku Singh, and the tradition is expected to follow in the years to come.
Speaking about the talent of all these upcoming cricketers, veteran opener Shikhar Dhawan stated that he is really impressed with the kind of mindset everyone has at the moment. He lauded their way of thinking and even revealed that he once asked Suryakumar Yadav how to hit a particular shot.
"It's really good to see. Change is the only constant thing in life. You have to adapt with time. It is lovely to see how players have come up with new strategies and new ways of thinking. Even like… we've been playing for such a long time, we get so inspired by all the young players when they come up with some new shots, and personally I ask 'how you played that?" Dhawan was quoted as saying by ICC.
"I was asking SKY, he hits that six and I asked him 'What do you do, man?'. So he was like, 'I just bend and I do this'. I said I am going to try that in the nets as well because the more tools you can carry, it gets easier and it's a wonderful mindset," the 37-year-old added.
The new generation, they play and they express themselves very nicely: Dhawan
The Punjab Kings skipper added that previously, his coaches used to ask him to play more shots on the ground, but the scenario completely changed in recent times. Dhawan added that he likes the bold approach of the young cricketers and believes it to be the biggest change in cricket so far.
"So, again, the main point is when I see the younger generation, they express themselves fearlessly. Where else, we also express ourselves but we had that thing because we were mentally trained that we have to play more on the ground but the new generation, they play and they express themselves very nicely and they don't feel that guilt as well that 'I got out this way or that way', so I feel that is the biggest change we have seen and it's amazing." he said.